With the aggressive legalization of cannabis around the world and the promotion of indoor growing, LED-Wachstumslichter are popular and widely used for both home growing and commercial vertical growing.
The rising popularity of LED plant lights makes them a fantastic business opportunity.
Many wholesalers and retailers are already making significant profits from this. The market is flooded with many different brands and models to suit all tastes and preferences.
However, the key to success in this business is finding reputable plant growth light manufacturers in China. Finding the right one for your business development is as much about how to choose a good LED grow light as it is about the various factors to consider.
In this article, I will show you how to find plant growth light manufacturers in China and things to keep in mind when choosing. Before that, let's take a quick look at why you should choose a Chinese LED plant light manufacturer.
Why Choose the Chinese LED Grow Lights Manufacturer?
Most of the best LED grow lights on the market come from China. Why? Because Chinese manufacturers have been making and innovating high-quality products for decades.
Competitive Prices

. China's abundant raw materials, low labor costs and economies of scale have led to the country being named the world's largest manufacturing center. This is the advantage that Chinese products are more affordable compared to manufacturers in other countries.
Wide Range of Options

. LED grow light manufacturers China offer a wide selection of products from low-end to high-end. This means you can find a product that meets your specific needs and budget.
Quality Goods

. People may be concerned about product quality control in China, but we produce high-quality products that meet international standards.
Custom Grow Light Manufacturing

. Professional horticulture LED lights suppliers often offer customization options that allow you to tailor the product to your specific needs. If you have unique grow spectrum requirements, or you want to change the color.
Innovation

. Today's China is known for its innovation and technological advances. Even though we have been in the LED plant lighting field for 13 years, we still continue to improve and develop new products to meet the big demands of the market.
China's Shipping Industry is Highly Competitive

. Please trust China's speed and ability to ship goods to all major cities around the world.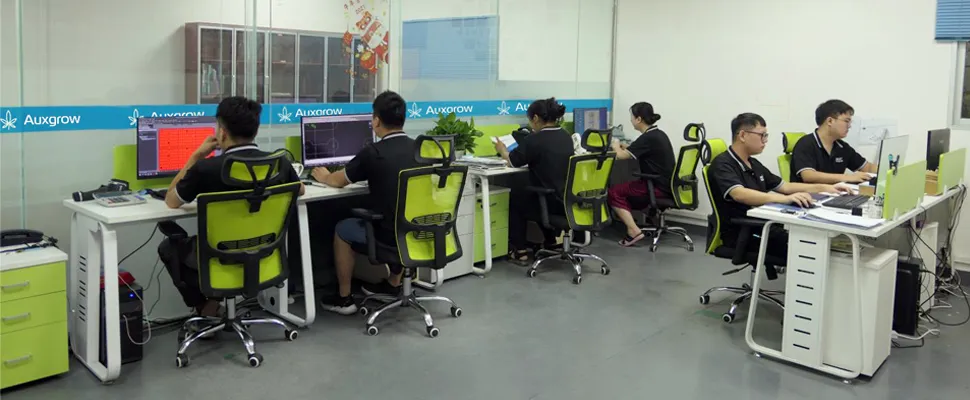 Hey, my would-be importer friend! I know there are some people who are concerned about the quality of products coming from China but let me tell you, we are not all evil.
In fact, I like to think of China as an egg-cellent country! Sure, there may be some low-quality goods there, but that's true of any country. And you should know that depending on the buyer's budget, high-quality products correspond to high-demanding buyers and low-quality products correspond to low-demanding buyers.
The key to all of this is to find a reputable LED grow light factory China that takes pride in their work and uses high-quality materials.
Don't be afraid to crack open that blind box of eggs and give China a chance, you might be surprised at the quality you find inside!
So, let's get down to the point.
Wie findet man Hersteller von Pflanzenwachstumslampen in China?
You can find Chinese commercial LED grow lights manufacturers in many ways. For example, you can use search engines, social media such as LinkedIn or Facebook, and you can also get recommendations from social or attend trade events and exhibitions.
Using search engines is currently one of the legitimate and effective ways to find LED plant light manufacturers in China.
Because Google, Bing and other search engines use advanced algorithms to identify good and bad websites. So, these well-known search engines will give you the most relevant search results. All you need to do is to put the keywords into the search bar and search for them.
Try the following keyword variants, or more precise keywords that you can think of to get better results.
LED Grow Lights Manufacturers China

Plant Growth Light Manufacturer China

Chinese Horticulture LED Lights Suppliers

Cannabis Lighting Companies China

LED Grow Light Factory China
When you do a search using these terms, you will find hundreds of results. And you'll need to filter to make sure you choose a manufacturer, not a distributor or retailer.
I think you should know that an advanced LED grow lights factory with independent websites can present their products and services more comprehensively.
Interact effectively with customers and process transactions. This allows factories to better control their branding, marketing and sales efforts and build direct relationships with their customers.
Some plant growth light manufacturers will also be active on B2B platforms such as Alibaba, Made-in-China and Global Sources.
While this approach to online B2B platforms can provide greater exposure to a wider audience. However, it also means that factories have less control over their branding and marketing efforts and are subject to the rules and fees of retail platforms.
One has to admit that the potential of social media today is very high.
Whether you are a local business or a global company, you can find the top grow light manufacturers on Facebook, Twitter, Instagram, Linkedin and YouTube.
You can even post your queries in Facebook groups. Today, there are Facebook Groups for almost everything.
Trade shows are equally beneficial to manufacturers and visitors.
The trade show is a platform for companies to showcase their products to attract new buyers. It is a great place to meet face-to-face with Chinese LED grow light manufacturers.
While companies create brand awareness, visitors will discover new business prospects and learn about trends in the industry.
Although the Internet is advanced, trade shows are still excellent opportunities to meet. We all love face-to-face offline.
Canton Fair, also known as China Import and Export Fair, is one of the oldest and largest trade fairs in China. There is no doubt that the Canton Fair is like a gold mine for importers. You can even look for new LED products in your niche market.
The Canton Fair hosts about fifty exhibition areas, divided into sixteen categories. There are separate sections for lighting equipment, home decorations, electrical and electronic products.
Guangzhou International Lighting Exhibition
Focusing only on lighting technology, Guangzhou International Lighting Exhibition (GILE) is the largest lighting trade event in the world.
LED plant light importers can benefit a lot from this trade show. It is an excellent opportunity to show, exchange and learn in this niche. You can see the products of LED grow light companies and discuss your requirements.
At the Guangzhou International Lighting Exhibition 2022, we saw many exhibitors focusing on plant lighting. There are also some well-known suppliers added LED plant lighting series.
I believe the future development of plant lighting and plant factory will be objective. You can now plan to attend GILE 2023.
Get Recommendations from Your Network
You can also seek recommendations from other businesses or people who have experience in the industry. They may be able to recommend reliable and trustworthy manufacturers.
There are several online catalogs, such as ThomasNet, Thomas Register, etc., which list manufacturers of different industries, including LED grow lights. You can search these directories by industry, location, or product category.
Things to Keep in Mind When Choosing Chinese LED Grow Light Manufacturers
Working through the search above, I'm sure you already have a ton of information on Chinese LED horticulture lighting manufacturers. But how do you know if they're reliable?
Choosing a good manufacturer is the first step in managing product quality and preventing order defects. You can't expect to be rewarded handsomely for working with a bad supplier.
Here, is a recommended guide to help you through this selection process.
Understanding the Experience
LED plant lights are fragile products that consist of many individual LED emitters and circuit boards. Such products require a high level of engineering to be of superior quality.
Therefore, it is necessary to choose a company that has been in business for a long time. Their engineers must also have at least ten years of experience in the product design and development industry.
A reputable LED horticulture lighting supplier is one that has a legitimate and long-standing website. This website will display all the basic information about the company.
A tour of the China grow light factory is the most visual way to provide you with a comprehensive picture of product quality and production processes. If needed, you can bring along an interpreter.
Make sure the facility is well organized, clean and equipped with cutting-edge technology. Thoroughly check all documents related to the products and contracts, and also, verify all authoritative certifications for the products.
A tour of the China grow light factory is the most visual way to provide you with a comprehensive picture of product quality and production processes. If needed, you can bring along an interpreter.
Make sure the facility is well organized, clean and equipped with cutting-edge technology. Thoroughly check all documents related to the products and contracts, and also, verify all authoritative certifications for the products.
Most businesses now have ratings and reviews on the Internet. You can go and find out what people are saying about your potential manufacturer. Remain neutral and have your own judgment about China LED grow light reviews.
Not all Chinese plant growth light manufacturers are the same when it comes to quality. You always want to check the manufacturer's CE, ROHS, UL, EPA, FCC and other applicable certifications.
Potential Problems in Cooperation
Even if you are confident in your potential manufacturer, you think about the following questions and ask them.
Minimum Order Quantity (MOQ)
The minimum order quantity is the smallest number of units that the importer must purchase at one time. Know the manufacturer's minimum order quantity ahead of time.
Usually, the more units of a product you buy, the lower the cost per unit. Based on my advice, your goal should be to strike a balance between not spending too much money and buying more than you need.
Find out what payment methods your custom LED grow light manufacturers accept.
For first time, some manufacturers require you to pay the full cost of your first order. As you become a regular customer, they may accept flexible payment methods. However, some manufacturers require full payment for every order before production can begin.
It is undeniable that price comes with quantity. Product pricing varies based on the volume of orders. You need to ask your partner for a cost breakdown to find out the cost of products, shipping and other services that the manufacturer adds to the total bill.
Nobody enjoys having to wait too long for an order. Delays in orders can seriously affect your customer relationships and ultimately sales. You need to contact your manufacturer to confirm the time when the product can be delivered to you.
Before a bulk order is placed, it is common to obtain some sample products and test the quality of the product. Some manufacturers offer samples at standard prices, while others offer them at discounted prices.
All you need to know to work with a quality Chinese hydroponics equipment supplier: perceived responsibility, quality in return, and win-win cooperation.
You and I know in our hearts what the quality of the samples we get for free will be.
In China, we have a saying that says "you get what you pay for". It means that if you give just a little, you will only get a little in return. It's like buying eggs, if you only pay a penny, you'll only get one egg, and it might not be a very good one!
If you want quality Chinese LED grow lights, you have to be willing to pay a little more. Don't be a penny pincher or you'll get a basket of rotten eggs!
Most plant growth light manufacturers will offer a warranty. This will give your buyers confidence in your product and your sales will increase.