Cannabidiol (CBD) has grown in popularity as a natural supplement for people in recent years.
The buzz around CBD has created a booming market. CBD oils, chewing gum, CBD skin care products, and other products created for humans now generate over $1 billion in annual sales.
CBD has many applications not only in human health but also in pet medicine. Because most mammals, like humans, also have an endocannabinoid system that functions in much the same way as the human ECS.
Now, pets are getting in on the CBD craze.
CBD pet products like oils, tinctures, and treats infused with CBD are gaining the attention of pet owners. They are seeking natural ways to relieve anxiety, pain, and other disorders in their dogs, cats, and other animals.
Keep reading to discover why CBD has gained popularity as a pet health trend and how it is being utilized in the pet market.
CBD is Going to the Dogs and Cats
CBD use in the pet business first appeared in 2019. At the time, "hemp therapy" was gaining traction in the US pet industry, with CBD components used in pet care. CBD extracted from industrial hemp was widely added to pet food or medicine, becoming a popular natural therapy.
According to a survey by market research firm Packaged Facts, 11% of dog owners and 8% of cat owners in the U.S. currently purchase CBD products for their pets. That represents around 6 million pet owners in America buying CBD pet products.
A report published in March 2021 by Technavio estimates the global CBD pet market size will grow to $2.04 billion from 2021 to 2025, growing at a CAGR of over 40%. This indicates the market more than doubled from early 2020 projections.
The survey conducted in March 2021 by King Kanine, a CBD brand for pets, found that 71.4% of pet owners say they are interested in buying CBD products for their pets. Of those, 10.9% said they currently use CBD for their pets while 60.5% said they would consider using it.
A report by Fact.MR published in April 2021 forecasts the CBD pet market in the U.S. will grow at a CAGR of 11.5% through 2031, reaching a valuation of $3.4 billion. U.S. CBD sales for pets currently make up one-fifth of total global CBD pet product sales.
HealthforAnimals.com, an organization promoting veterinary medicines and nutrition, reports that the demand for CBD pet products has skyrocketed over 328% thus far in 2021 compared to last year. This continued surging interest indicates 2021 may be the biggest year yet for CBD pet brands and product sales.
A number of new pet CBD brands have launched in early 2021, including Citizen.pet, Half Day CBD, and Oil & Ice. Major brands like Roxy Pets, Herbaland Gummy Bears, and Petly have released new product lines. This signals continued optimism about the potential for growth in this sector.
Headset, which tracks cannabis industry data, reports that CBD dog treats outperformed CBD products for human use in legal cannabis states in early 2021. This may indicate pet CBD products are gaining mainstream momentum faster than CBD for people.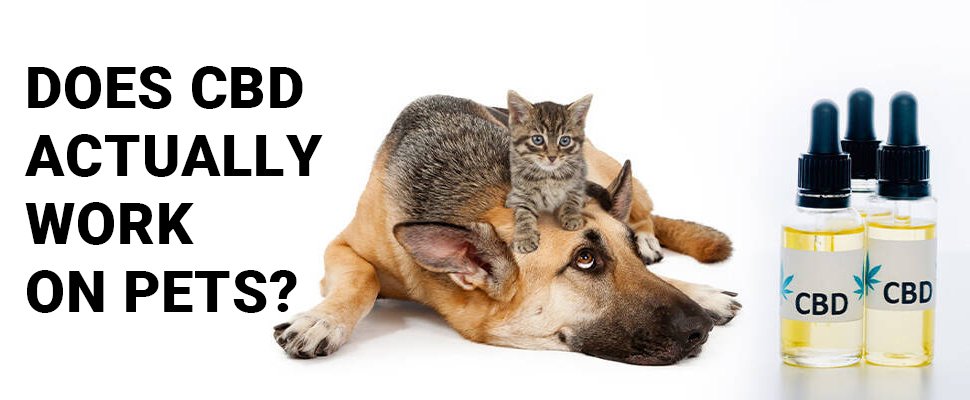 Benefits of CBD for Pets
CBD is the main chemical component of the medicinal plant cannabis, extracted from the female cannabis plant. It is the non-addictive component of cannabis and has pharmacological effects such as anti-spasmodic, anti-anxiety, and anti-inflammatory.
CBD can be added as an additive to pet kibble, snacks, and even bath shampoos to prevent fleas and for calming functions. It can help pets relax during stressful times and interact more amicably with humans.
CBD Helps Pets Reduce Anxiety
According to research, many pet dogs suffer from pet separation anxiety. If the pet owner is not able to be with the pet regularly, the pet will suffer from pet separation anxiety if the pet does not learn to be alone on top of being overly dependent on the owner.
When owners have to go out, dogs become agitated. They will bark loudly and destroy things. The internal anxiety will cause them to resist defecating, resulting in open defecation, and also severe anxiety will also vomit, diarrhea, etc.
And pet food or supplements containing CBD can relieve their anxiety and allow them to relax.
Reduced Aggressiveness
Aggressive behavior in pet dogs is a complex issue. There are many factors that can contribute to canine aggression, such as medical issues, behavioral problems, and trauma.
Using CBD can help pets feel calmer and more relaxed. It reduces the likelihood that a dog will be triggered to attack by a specific situation.
Reducing Seizures
Epilepsy is more common in pet dogs and is manifested by sudden collapse and convulsions, spasms, restlessness, irritability, wailing, hiding in the dark, and general rigidity.
CBD medications are not only used as anti-epileptic for humans but also for pets. After giving CBD oil drops and CBD food to pets, a significant reduction in seizures was found.
CBD Help Dogs with Pain and Inflammation
Like humans, dogs can suffer from age-related diseases as they get older. The swelling and pain of arthritis often afflict them.
Dogs with arthritis have a characteristic that they always move more stiffly. Their paw joints are fat, swollen, and painful to touch, and they can become irritable and temperamental.
Does CBD help dogs with pain and inflammation? Yes, giving your dog CBD foods and supplements will benefit their anti-inflammatory and pain relief.
Treating Skin Allergies
When a cat keeps scratching, it often results in inflammation and open wounds that can lead to infection.
CBD has a positive effect on the immune system by balancing its hypersensitivity response. It also helps suppress hyperactivity, which is a symptom of allergies.
Microorganisms are often at the heart of environmental and food allergies. CBD also has antimicrobial properties, so it is said to be very effective in treating feline skin conditions such as atopic dermatitis.
In addition to the above benefits, CBD also has the ability to relieve appetite loss in pets, reduce fear, and improve glaucoma symptoms.
CBD Pet Products Currently on the Market
The selection of CBD pet products is rapidly expanding as more manufacturers add to their product lines based on customer needs and preferences.
There are now more options available to pet owners for maintaining the health and wellness of their dogs, cats, and other pets than ever before.
CBD oil tinctures: CBD oil tinctures for pets are very popular and the most direct way to administer CBD. Pet owners add a few drops of CBD oil to their dog or cat's food, treats, or directly into their mouth. CBD tinctures come in a variety of potencies, so pet owners can choose a lower or higher strength based on their animal's needs.
CBD pet treats: For dogs, CBD dog treats and biscuits are big sellers. They come in flavors like peanut butter, chicken, beef, and liver that dogs love. CBD treats make it easy to give CBD to pets, though the dosage in treats may be less precise. Some brands offer catnip-flavored CBD treats for cats as well.
CBD capsules or pills: For pets, CBD capsules or pills are similar to many common supplements. The capsule form allows for accurate dosage, though some pets may not like taking pills.
CBD topical creams: CBD topical creams, balms, and salves can be used to ease joint pain and inflammation in dogs and cats. They provide targeted relief where applied.
CBD pet shampoo and balms: Some brands offer shampoo, conditioner, balms, and paw butter infused with CBD to help moisturize a pet's skin and fur while also possibly providing soothing benefits.
Other products: CBD pet product makers are continuing to innovate. Some now offer CBD peanut butter, CBD coconut oil, CBD chew sticks, CBD meal toppers, and CBD gel pen capsules as options for giving pets CBD.
The Pet Industry Green Book reports that approximately 70% of pet products containing Hemp Extract Oil have the potential for expansion into powders, gels, nibbles, and topicals. This suggests a bright future for CBD-related pet products in the retail market.
With people willing to spend more on various items and services, the potential for CBD pet products is enormous. This is excellent news for both manufacturers and merchants.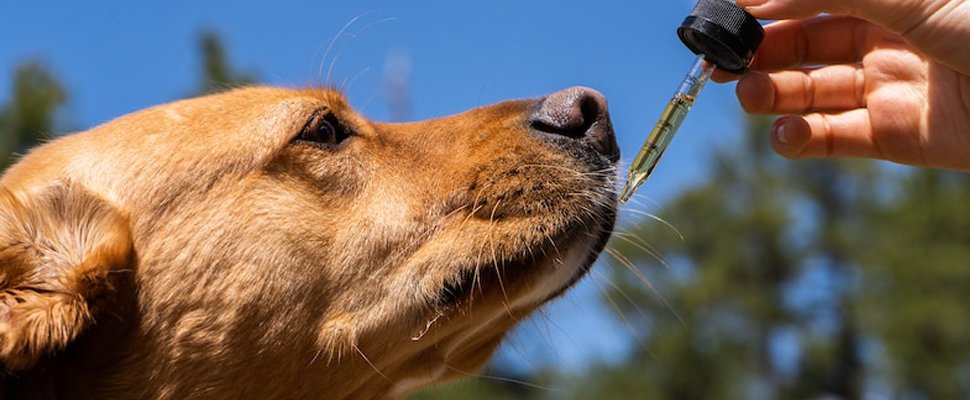 Can Too Much CBD Hurt My Dog?
It's crucial to understand that while CBD can be a safe and natural supplement for pets, incorrect usage can be harmful.
Your dog may experience severe tiredness, lethargy, stomach cramps, nausea, diarrhea, or drowsiness if they consume too much CBD.
It's important to note that the CBD industry is unregulated, so it's possible that some products may contain little to no CBD or harmful toxins. As a responsible pet owner, it's your duty to be aware of these risks and take necessary precautions.
Here are some important safety tips and things pet owners should know about giving CBD to their animals.
Always consult your vet first. While CBD is generally considered very safe for pets, you should always talk to your veterinarian before giving it to your animals, especially if they are on any medications. CBD may interact with some medicines, so a vet's guidance is essential.
Choose high-quality CBD pet products. The CBD market is largely unregulated, so look for CBD brands that provide veterinarian-approved products and independent lab testing results showing purity and potency. Only give your pet products made specifically for animals.
Get the correct potency and dosage. Pet owners should follow the dosage instructions on the product packaging or provide by a vet. Giving a dosage that's too high can have negative side effects. It's best to start with a lower amount and gradually increase it.
Look out for side effects. Rarely, CBD can cause side effects in some animals like drowsiness, lowered blood pressure, and inhibition of liver enzymes. Pet owners should stop giving CBD and contact a vet if serious side effects develop.
Avoid synthetic CBD. Some cheaper CBD pet oils and tinctures contain synthetic cannabinoids which can be dangerous. Only purchase high-quality CBD extracts from reputable brands.
Store CBD securely away from pets. To avoid overconsumption, keep CBD pet treats and other products secured away between doses. Like any supplement, too much CBD at once can cause nausea and other gastrointestinal issues in pets.
Monitor your pet. Observe your dog or cat closely when you first administer CBD. Look for any positive or negative behavioral or health changes to discuss with your vet. Keep a record of how your pet responds to help determine optimal dosage.
Pet owners must adhere to best practices to guarantee the safety and optimize the advantages of CBD for pets.
It is crucial to utilize superior-quality CBD pet products and seek guidance from a veterinarian, even with the absence of studies on CBD for dogs. Vigilant monitoring of their use is imperative.
A Good Opportunity for Cannabis Growers in the CBD Pet Market
Attention cannabis cultivators: it's important to know that hemp is currently the primary source of CBD for pets. However, the CBD concentration in hemp is much higher.
With CBD pet sales expected to surpass $2 billion in the next five years, there may be a new market for CBD sourced from hemp if it becomes legal.
As the demand for broad-spectrum extracts from other cannabinoids increases, cannabis breeders must consider developing strains with higher CBD content, ranging from 14-18%.
As more states legalize medical marijuana, reputable growers must prioritize honing their skills and establishing their credibility in the production of high-quality CBD for animals to gain a significant advantage.
To prepare for future changes, it's important to establish authority and status. This can be achieved through strategies such as forming alliances with veterinarians and brands, breeding and extracting for pet needs, and obtaining organic certification.
Pets, often on the leading edge of wellness trends, provide the perfect opportunity for growers to refine these non-intoxicating uses and applications.
If we serve this space thoughtfully, the future seems promising. Our pets can guide us towards it if we choose to follow their lead.
For those considering investing in indoor cannabis farming, AUXGROW provides the ideal solution. Our commercial LED grow lights are expertly designed for cannabis cultivation and are a must-have. If you require additional information, do not hesitate to contact us. We are happy to assist you in any way we can.
Conclusion
CBD pet products are a new and exciting option for natural healing and preventative care. Even though they are still in their early stages, they show great promise.
When considering CBD pet products for natural healing and preventative care, it is crucial to exercise caution. Ensure that you visit a veterinarian, closely monitor your pets, select reliable products, and properly manage CBD.
CBD is a long-term change that is here to stay, and it is essential for us to provide proper care for our animal companions.
As marijuana and hemp growers, you have the expertise and resources to thrive in the fast-growing CBD pet market.
If you want to take your business to the next level, improve animal health, or demonstrate the benefits of cannabis, get in touch with us right away. Our LED grow lights are the perfect tool to help you achieve your goals.