With the influence of various factors in recent years, hobbyists and commercial plant growers are investing in grow lights and the demand for LED grow lights is skyrocketing.
According to market research, the global LED grow light market will reach $9.39 billion by 2028, growing at a compound annual growth rate of 28.32%.
If you are choosing grow lights for your lighting project or distribution business, we have listed 15 leading horticulture LED lights suppliers for your reference based on a combination of industry influence, company characteristics, and other factors. We also offer some advice on how to choose a reliable manufacturer to help you flourish your LED business.
Let's start the worthwhile journey of LED grow light brands.
Founded: 1891 (founded under the company name Philips)
You must know Philips grow lights and the Philips LED grow light strip.
Signify is the new company name of Philips Lighting, which changed its name to Signify in May 2018.
As the world's largest lighting company, Signify carries on the entrepreneurial spirit of Philips and also pioneers many emerging areas. Examples include plant lighting, light communication technology (LiFi), smart light poles, 3D-printed luminaires, and more.
Signify, the lighting expert for developing light plans, who makes the best LED grow lights and has products for different horticultural applications. The dynamic Philips GreenPower LED products together with GrowWise control system provide maximum flexibility to meet customers' потребности.
Signify supports remote and on-site commissioning and calibration to ensure proper deployment of the lighting system according to the lighting plan.
As one of most professional LED grow light companies, they have continued to expand their knowledge base of growing formulas to make plants grow faster, look better, taste better, and even be healthier for the end consumer.
Founded: 2009
It is worth mentioning that Valoya is one of the world's top horticulture LED lights suppliers. The Finland-based company was founded in 2009 and now has offices in Finland, the Netherlands, Germany and the United States.
Valoya's research on LED grow lights technology aims to support pharmaceutical and food production. Over 100 published research projects have used Valoya's LED plant lights.
The company has conducted extensive biological research and they produce plant lights to create the optimal spectrum for optimal plant development. Their plant lights consist of the highest quality components, including custom LED chips that produce our patented spectrum, and Valoya has accumulated 100 patents.
Valoya says 8 of the world's 10 largest agricultural companies rely on Valoya. Currently, it supplies top rated LED grow lights to over 50 countries and has a global distribution network of more than 30 partners.
Founded: 2009
Mars Hydro is headquartered in Shenzhen, China. It is a plant growth light manufacturer focused on providing indoor growers with trusted top rated grow lights, grow tents, grow tent kits, inline fans and carbon filters, and everything else they need indoors.
It has warehouses in the US, Canada, Russia, Europe (Germany), the UK, Australia, Japan, and Thailand. If you are looking for the best USA made LED grow lights, you can refer to this one.
Mars Hydro has a dedicated team to research, design, develop and test their LED grow lights. Their lights use scientific devices, advanced technology and high-quality components.
Mars Hydro makes custom grow lights for professional growers and amateur gardeners. One can choose from a variety of grow lights with different parameters.
Founded: 2010
As for LED grow light manufacturers in China, there are some outstanding ones. Auxgrow is one of them. This Guangdong, China-based company has been manufacturing LED plant grow lights for 12 years.
This cannabis lighting company is focused and passionate about providing users with a wealth of experience in using and growing lamps.
It has a factory in Zhongshan and a sales and marketing office in Guangzhou.
They aim to provide the highest quality service and innovative technology to deliver technical solutions. Auxgrow has a dedicated team to research, design, develop and test their LED grow lights.
One of the top cannabis lighting companies in China, Auxgrow focuses on R&D and offers OEM/ODM/OBM services to meet different requirements.
You can purchase grow light panels, LED full spectrum grow light, LED grow light tubes, LED grow light bars and adjustable spectrum grow light with UV light in Auxgrow.
The ability to go from R&D to pilot production and mass production of various types of best horticulture LED and hydroponic products has been confirmed by hundreds of customers with custom requirements.
Their LED drivers for custom LED grow lights are UL-listed and products are certified to ETL&cETL, DLC, SAA, CE, RoHS and other standards.
To become one of the LED grow lights wholesale distributors of AUXGROW, contact them for information.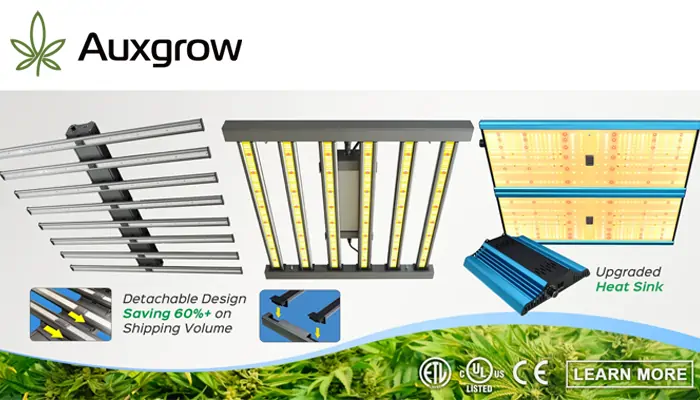 Founded: 2004
YAHAM Lighting is a commercial led grow lights manufacturer with over 18 years of LED manufacturing history, with its headquarters in Shenzhen, China.
YAHAM Lighting is certified by BSI ISO9001 Quality Management System and ISO14001 Environmental Management System. Their LED Lighting products are certified by CCC, CQC, CE, RoHS, C-tick, ETL, and PSE.
The company manufactures work lights, flood lights, LED street lights, canopy lights and LED plant lights. YAHAM manufactures high-quality LED grow lights for experienced and novice plant growers.
In addition to this, YAHAM Lighting also produces full spectrum horticultural lighting solutions. They have a state-of-the-art manufacturing unit covering an area of 35,000 square meters. The company currently employs over 600 people.
Founded: 2009
Spider Farmer, one of the top grow light manufacturers in the world, is an innovative leader in the manufacture of LED grow lights. With a 3,800 square meter LED grow light workshop and a 2,700 square meter workshop built for grow tents.
Each element of Spider Farmer's LED grow lights must pass rigorous performance and durability tests. CE, RoHs certification in the EU market, ETL, and UL certification in North America including the US and Canada.
As one of the famous horticulture LED lights suppliers, they have warehouses and repair centers in the US/Canada/UK/Germany/Australia.
It is a self-sufficient company where research, design, development, production and testing are all carried out by its own team of experts. Spider Farmer manufactures grow lights for professional growers and hobby gardeners.
Founded: 2007
Lumigrow won the title of one of the top LED grow light manufacturers in the world. Its headquarters is in Emeryville, California.
It designs and manufactures a range of innovative horticultural lighting products and offers industry-leading smart horticultural lighting solutions.
LumiGrow LED grow lights feature an adjustable spectrum. It introduces LumiGrow LED lighting strategies that many of the world's leading commercial horticulture and research institutions have adopted this strategy to replace traditional HID lighting and static LEDs.
Research team of the company includes plant scientists, doctors and experienced researchers. Their research is supported by industry-leading horticultural research.
Are you looking for USA made LED grow lights? LumiGrow will be ideal for you.
Основан: 2011 г.
California Lightworks, top LED light manufacturers in USA, has two major product lines, the SolarSystem Series and the SolarXtreme Series.
One of the top LED grow light manufacturers USA, always keen to provide a wealth of growing knowledge to users.
The SolarSystem Series is a line of high-power LED plant lights that are a direct replacement for traditional HID bulb technology. These plant lights feature programmable digital spectrum control, with an exclusive digital spectrum control system optimized to achieve the highest quality and yield with the least amount of energy use possible.
The SolarXtreme Series full spectrum LED grow lights feature an exclusive Optigrow® spectrum. Specially formulated and tested, this spectrum provides the best effect and provides full power for flowering and high yield.
Основан: 2016 г.
Horticulture Lighting Group (HLG), located in East Tennessee, was founded in 2016.HLG is an industry leader in producing high-efficiency, full-spectrum LED grow lights for commercial and home horticulture.
With this expertise and experience, HLG designed the first high-density modular light engine for horticulture. LED Quantum Boards have created a new revolution in the horticultural lighting industry.
HLG's trademarked Quantum Board technology sets a new industry standard, perfectly complementing efficiency and affordability.
As one of the best horticulture LED lights suppliers, HLG is always researching the best commercial LED grow lights and improving its designs to ensure they provide its customers with the highest quality products.
Основан: 2011 г.
Telos Lighting is a UK-based biosystems engineering company specializing in photobiological lighting solutions.
Since 2011, Telos has designed and manufactured high-quality LED systems for commercial horticulture and advanced medical applications. The same mechanical robustness and forward-looking design concepts ensure that Telos' systems are GMP and GAP compliant.
Each project is approached by a specially assembled team of lighting design experts, and Telos develops tailored strategies to provide turnkey solutions for its partners.
Founded: 2004
Lumatek is one of the largest specialty horticulture LED lights suppliers in the horticultural lighting industry, specializing in grow lighting solutions for wholesale, indoor growing and large-scale gardening projects.
It is considered one of the most mature product lines on the market, has one of the best 5-year warranty in the industry, and is available in over 30 countries and territories. Over 1 million LUMATEK ballasts have been sold worldwide.
Lumatek's proven lighting solutions are designed and manufactured to the highest testing standards and have passed all relevant legal certifications. Their products are regularly tested by independent industry experts to ensure optimal performance and durability.
Founded: 2006
Heliospectra was founded in Sweden in 2006 by plant scientists and biologists. Their team consists of plant biologists and actual growers who understand the real needs of growers and are rooted in the study of plants and light.
Heliospectra is a global leader in innovative horticultural lighting technology, custom lighting control systems, and professional services for greenhouses and controlled plant growth environments.
The major product lines are the MITRA series, ELIXIA LED series, and DYNA series.
When you search for indoor LED grow light manufacturers with extensive experience, Enlitehorti should be at the top of the list.
They have 20 years of experience in LED production technology and up to 15 years of experience in circuit board production.
As the technology evolved, Enlitehorti took on the mission of using LED gardening lights for alternative plant breeding, a mission that led to the company employing over 400 people.
Enlitehorti is a leader in spectral LED grow lights, specializing in the design, manufacture, and marketing of commercial LED grow lights for indoor agriculture and greenhouses.
Thus, the best LED grow lights with superior performance provide solutions for cannabis, vegetables, flowers, tomatoes, and other related plant breeding.
Founded: 2014
KindLED is the industry leader in directional full spectrum LED grow lights.
They have consulted with hundreds of professional medical growers, rigorously researched and developed our proprietary cutting-edge LED technology, and continue to revolutionize the indoor growing industry year after year.
Their designs are built on decades of light science to calculate target spectral levels for plants during photosynthesis, and KindLED offers three main products: X², X Series and X Bar Lights.
Founded: 2018
Crecer Lighting is a fastest-growing LED lighting manufacturer in the world. They supply LED grow lights worldwide. Crecer Lighting is based in California.
The company has many years of experience in designing and manufacturing innovative plant grow lights. Their LED grow lights use diodes that support a controlled spectral ratio.
Crecer Lighting manufactures LED plant grow lights for greenhouses and indoor agriculture. In addition, one can use them for pipe growing, home gardens and vertical farming.
The company offers the VERTX 600 series, the crecer lighting panthrx ii and the Micro 2 series plant grow lights. They are available in different wattages to meet different needs.
How to Choose Horticulture LED Lights Suppliers?
Choosing the right manufacturer is becoming more and more complicated as suppliers continue to proliferate. But you can consider as many aspects as possible, which does not just mean finding the most powerful manufacturer or the largest company.
You should choose the one that best suits your actual conditions and requirements. We have listed some of the most common selection criteria as follows.
Generally, companies of a certain size or large companies they use their well-designed websites to introduce their companies and promote their products.
If you find that the company does not have a website, it shows that it may be small and not well-known in the industry.
Choosing a trustworthy manufacturer requires paying attention to the year of the company's establishment. Although the length of operation does not fully reflect their capabilities, companies with more experience in the industry will produce products of more consistent quality.
With a complete set of production processes, they enjoy an excellent reputation in the industry and are more trusted by customers.
Quality is the most important concern of our customers and is the guarantee of long-term cooperation. We prefer to buy some samples before placing an order.
You also need to consider the friendly packaging, durable materials and the brightness of the lamp. To ensure after-sales service, we should also ask the manufacturer how many years of warranty they offer.
Lumens per Watt: The efficiency of any light source should be evaluated in terms of lumens per watt.
Power Factor: The power component is an important consideration when evaluating the quality of any electrical device.
CRI (Color Rendering Index): The higher the CRI, the better the color; the lower the CRI, the worse the look.
Color temperature: LEDs should be available in a variety of color temperatures from 2800K to 6500K.
LED grow light factories can offer faster delivery times and better-quality control. With advanced equipment and multiple production lines, they will produce a wide variety of products in a shorter time.
Answer customer questions in time, and each other's time will not be wasted. Smallest possible package size to save shipping costs. A good supplier will save your customers more time and money, and you will feel relaxed and happy when working with them.
Before you start your business, you'd better do some research on the local market. Compare the price of LED grow lights in the local market with the price offered by the manufacturer.
But remember not to focus only on price, because quality is the most important thing. Find a balance between the two by determining your actual needs.
There are a lot of good horticulture LED lights suppliers from each country, with their own advantages and disadvantages. Filter a manufacturer based on your customer base or the product parameters you need.
After looking at these 15 LED light companies, do you have a supplier you would like to contact? Please do not hesitate to contact AUXGROW for information on LED plant lights.