Create a mini vertical farm in your living room, kitchen, or basement.
Brew, grow, enjoy: Greens as easy as espresso.
Benefits of Having A Vertical Farm at Home
✔ Grow 60 types of leafy greens and delicious herbs at home year-round.
✔ Harvest what you need when needed, eliminating food waste and guaranteeing freshness.
✔ Farm-to-table produce is also available on demand year-round in a limited space.
✔ Not only a simple vegetable planter and modern home decor.
✔ Individuals can explore small-scale commercial vertical farming.
✔ Planting together with family improves feelings.
We believe that in the future, many households will have a garden just like this one.
We believe that in the future, many households around the world will have a garden just like this one.
Lettuce, herbs, tomatoes, peppers, and strawberries are great for starters. Consider other factors such as available space, lighting, and personal preferences.
Good seedling raising is the premise of successful hydroponics. Sow seeds in a seedling tray and place them on a sunny windowsill or under a LED kasvuvalo.
When the seedlings reach the right height, move them to the pods of the hydroponic system. When the roots are well fed, the roots are firmly anchored in the smart soil.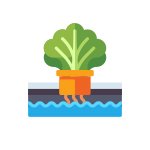 Now, all you have to do is wait and let the plants grow! The home vertical system will automatically optimize growth and provide your crops with exactly what they need.
Keep an eye on them and check for any signs of maturity. When your fruits and veggies are ripe, you can harvest what you need when you need it.
Hydroponic Grow Cabinets for Sale
Enclosed hydroponic grow cabinet: unleashing the advantages for indoor gardening success.
Introducing the Auxgrow highly recommended automated indoor growing system for home use.
Each hydroponic cabinet has 4 floors, each with 20 planting holes, for a total of 80 plants to be grown.

2 full-spectrum LED grow lights in each layer, meeting the photosynthesis needs of various vegetables.

The enclosed space maintains optimal temperature and humidity while preventing pests.

Equipped with automatic water circulation, water temperature control system, and air system.

Power, lighting, water pump, fans, and other systems can be remotely controlled via your smartphone.
The beauty of the Auxgrow plant growing cabinet lies in its comprehensive functionality and user-friendly operation.
It allows for vertical soilless cultivation right at home, offering the flexibility to customize your garden according to your preferences.
Despite its small footprint, this system boasts abundant crop yields, consistently meeting the weekly grocery needs of an entire household.
Imagine spending the same amount on your 500th head of lettuce at the supermarket as you would on acquiring a single hydroponic cabinet.
It can produce a whopping 1,360 plants annually.
Vertical Hydroponic System for Sale
Gardeners also have a fondness for open vertical farming at-home kits.
Experience boundless growth and gardening joy in your indoor oasis through open planting.
4 layers at the top for planting with a total of 72 pods; the bottom layer for seedlings with 85 pods.

Each layer is equipped with 3 LED grow lights, catering to the photosynthesis needs of various vegetables.

Control the power, lighting, water pump, and other systems via a user-friendly touchscreen interface.

Built with eco-friendly materials, ensuring durability, water resistance, and easy cleaning.
Effortlessly cultivate unparalleled, chef-quality fresh ingredients and indulge in meticulously curated culinary experiences.
Maybe the home vertical hydroponics systems for your home offered by Auxgrow could fulfill your desires.
The open complete indoor grow systems bring fresh air to indoor gardeners, redefining the way plants thrive and flourish in indoor environments.
Seamlessly combining seedlings and planting, it requires no additional space.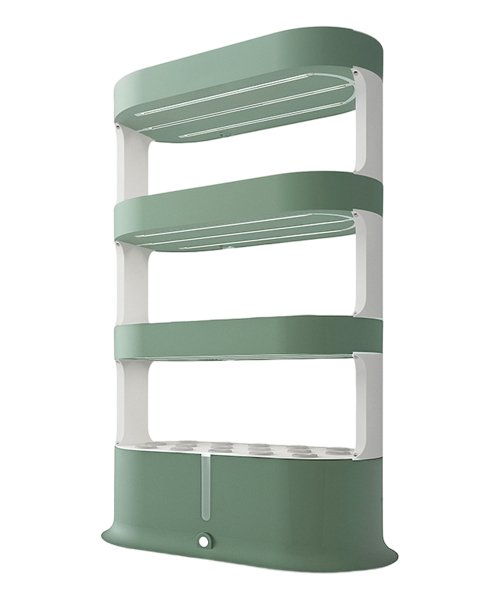 Hydroponic Gardening Systems for Sale
This would be a fantastic gift, providing indoor gardeners with an all-encompassing and delightful experience.
Fill the garden and start planting beautiful herbs and vegetables!
Top level for soil-based planting or tool storage.

Second to fourth levels: Equipped with separate planting troughs for hydroponics.

The distance between each planting board and the grow light is 19.5 cm, suitable for most vegetables.

The vertical hydroponic system kit comes with full-spectrum LED plant lights, and each layer's grow light can be controlled individually via a remote.
The user-centric philosophy is ingrained in our DNA and runs through our designs.
The fusion of soil and hydroponic cultivation opens up a world of possibilities for indoor gardeners, elevating their gardening journey with a dual experience.
No longer will you feel frustrated by the cold winter that hinders your gardening endeavors.
Experience the revolutionary Auxgrow vertical farming home kit that adds a touch of nature to your living space with its lush green plants effortlessly integrated into your home decor.
Lisää sisäviljelyä kotona
Although Auxgrow's Vertical Series is popular for home gardening, there are other hydroponic systems available for indoor enjoyment!
Get in touch with your home grow systems supplier today.
User-centeredness is in our blood and runs through our design, manufacturing, sales, and marketing.
We are proud to be a part of the innovative and sustainable solutions.
Let's create a healthier community and a cleaner planet!
Contact us for information on which vertical hydroponic systems are right for your application. We would be happy to offer you support.