When you want to replace all the HPS fixtures but don't know which LED light to use, feast your eyes on our 1:1 Replacement for HPS Fixture GT05, which can meet what you want. This is a 800W LED grow light 1:1 Replacement for HPS Fixture, you can directly install the replacement in the original HPS or CMS lights hanging position, easy to install, you can install it by yourself with no extra cost.
This 800W LED grow light compact design fits straight into standard HPS setups, making the process of upgrading and converting your lighting equipment to LED technology much easier than ever before! And, not only can you unleash 800W of immense power at a highly efficient, mega impressive output of 2.45μmol/J.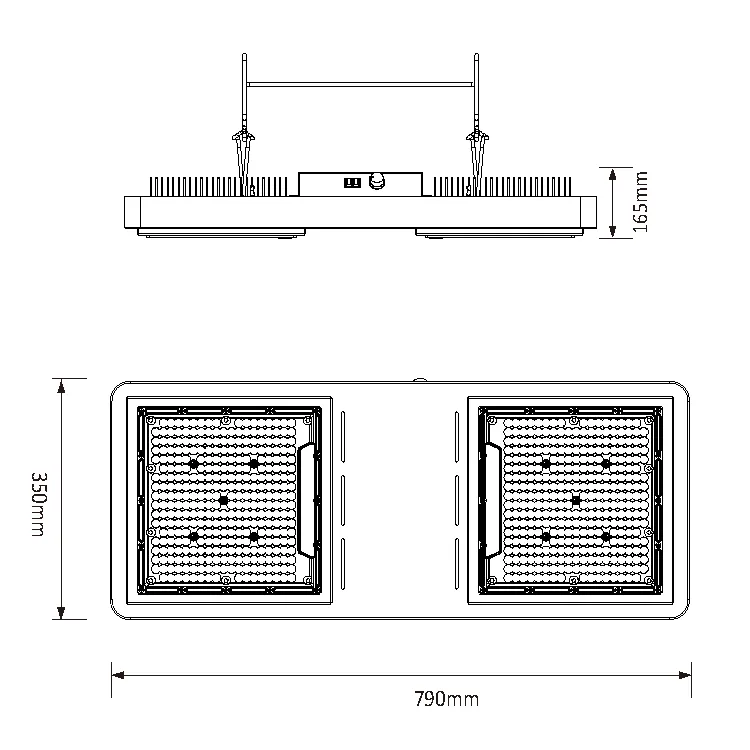 LED Grow Light 1:1 Replacement for HPS Fixture GT05
Power: 800W
Dimension: 790*350*165mm
PPF: 1960 μmol/s
PPE: 2.45 μmol/J
Samsung and Osram LEDs
Full spectrum 5000K, 660nm Red, 450nm Blue
Input Voltage: AC100-277V, 277-480V Optional
Inventronics LED driver
Power Factor: 0.98
Dimming: Knob dimmer + RJ14 Port
Rating: IP65
Lifetime: 54,000hrs
Features
This 800W LED grow light specifically designed to be a direct replacement for HPS luminaires.
1:1 Replacement for HPS Fixture GT05 is a compact, low profile and extremely bright fixtures for light-loving plants.
Produces 800W of booming power at 2.45umol per watt.
Proven energy efficiency of up to 25% compared to HPS.
Easier to handle, reposition and operate than strip LEDs.
Built to high standards with quality components for the most demanding environments.
Cannabis grow light GT05 comes with a wide optical system ensures uniform light coverage and crop uniformity.
More spectral optimization of the crop, less radiant heat than HPS lamps.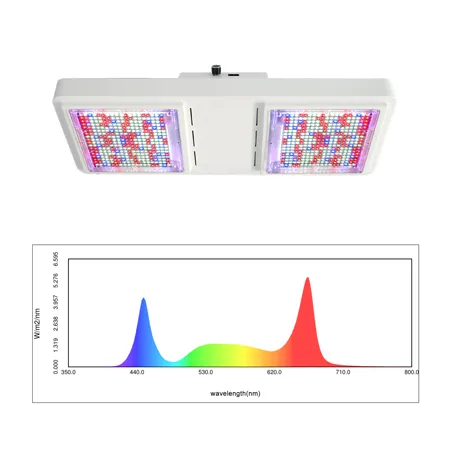 LED 1:1 Replacement For HPS
LEDs are replacing conventional lighting sources such as HPS because they offer higher efficiency, less radiant heat and are spectrally optimized for crops. By replacing a 1000W DE HPS unit with an Auxgrow GT05, you can increase yields, improve quality, and save up to 25% on energy use. Retrofitting is quick and easy as the compact GT05 fits seamlessly into existing HPS layouts.
Saving Money & No Extra Cost
This cannabis grow light concentrates blue and red wavelengths, with a higher percentage of blue wavelengths increasing secondary metabolites compared to HPS, and the broad spectrum promotes vigorous plant growth as plant needs change. The high uniformity of light distribution also produced consistent crop quality and quantity. All of this 1:1 Replacement for HPS Fixture uses less energy than HPS units.
Robust and Easy to Clean
1:1 Replacement for HPS Fixture GT05 is built to withstand the most challenging growing environments. It's compact, durable and easy to clean. You don't have to worry about a lot of troublesome strip lights, nooks and crannies. The rugged design is accented by high-quality components that deliver high-end performance you can count on.
Amazing Uniformity
The light intensity stays the same from edge to edge under the Auxgrow 800W LED grow light. Wide optics create a nearly identical light pattern to HPS fixtures and enhance performance through even light coverage left to right. It's an astonishing level of uniformity that helps unlock the kind of plant growth that's capable of changing the world.