Feature
The aeroponic tower is a type of hydroponic tower, and it is also a vertical planting system.
Aeroponic tower garden is used to grow flowers, vegetables, salad dishes, medicinal materials, fruits, etc.,
Adopting water cycle cultivation, Auxgrow vertical planting system saves 90% of water compared with traditional cultivation methods;
Soilless cultivation, as long as water and nutrient solution are added, green cultivation can be realized without pollution;
Simple installation, convenient cleaning, and disinfection after each planting, aeroponic tower garden HT06 can be connected to multiple column cultivation planting systems, the same area can reach the maximum planting volume.
Cultivation main body: 10 Layers.
Each layer has 8 holes, Total 80 planting holes.
Width: 670mm, Height: 1700mm.
Cultivation main body: 8 Layers.
Each layer has 8 holes, Total 64 planting holes.
Width: 670mm, Height: 1400mm.
Cultivation main body: 6 Layers.
Each layer has 8 holes, Total 48 planting holes.
Width: 670mm, Height: 1100mm.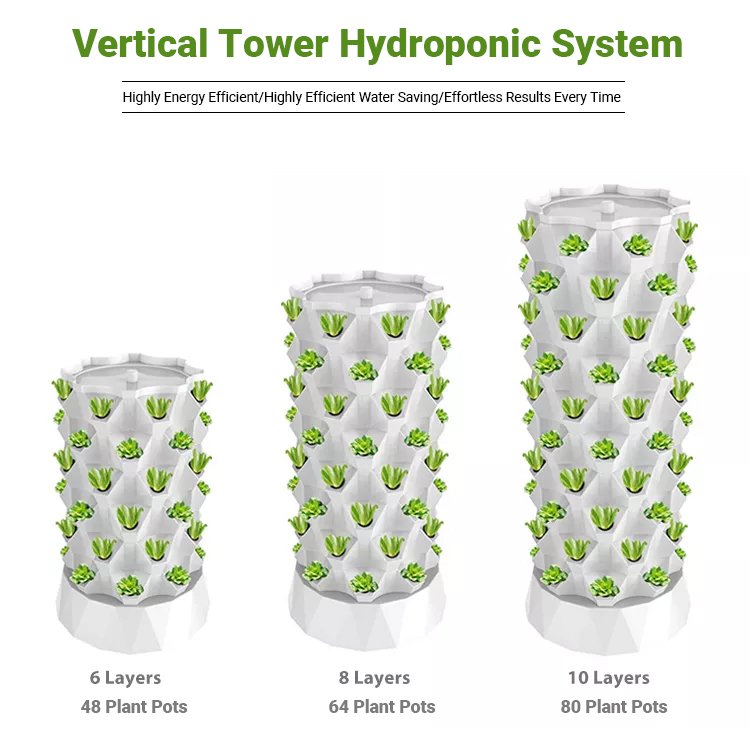 About Aeroponic Tower Garden HT06

Product Dimensions: 27″D x 27″W x 17.3″H (68.6 x 68.6 x 43.9 cm)

Input: AC 100-240V / 50-60Hz
Output: DC 24V, 2A
Plug: US, UK, AU, EU
Material: ABS Food Grade Plastic
Color: White / Green / Yellow / Gray
Brushless DC Pump
Max Head of Pump: 11M
Max Flow of Pump: 450L/H
Power of Pump: 28.8W
This vertical aeroponic system have a unique design that is fitted with water directors and water catchers – it's basically a funnel on the inside that holds water longer thus giving each site plenty of nourishment. The net pots are placed at angles that don't simply let the after pass through – they are angled that water trickles down and the plants get all the nutrients that pass through. This allows to extended periods of nourishment even without the sprinklers running, and in the event of an extended power shortage, the best option is to simply feed the top of the tower with water and drip it into each spot. The top is easy to remove and just as easy to put back on.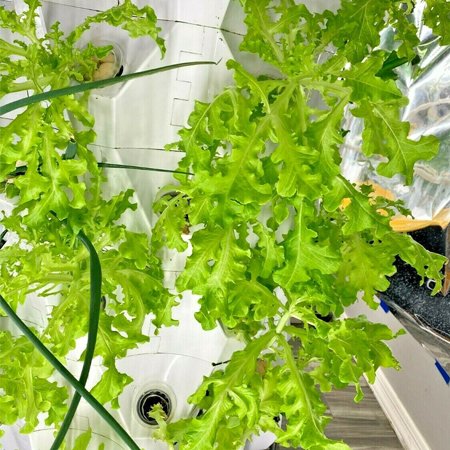 Effortless Results Every Time
Specifically tailored to provide the optimum controlled environment for growing a wide range of agricultural products in all environments and climates. With our combination of science, research and lab-tested aeroponic tower garden you get a significantly higher yield that grows faster consistently.
Vertical Systems for Organic Farming
Auxgrow vertical aeroponic system is a modular, stackable and mobile vertical growing ecosystem, specifically engineered to maximize yield and automation, producing a fresh harvest with minimal effort.
Highly Efficient Water Saving
Only a fraction of irrigation water is used by the pants itself. In traditional methods, most of the water vaporizes into the air, making the process highly inefficient and wasteful. In Auxgrow vertical planting system, all vaporized humidity is caught into water circulation to be reused directly by the roots.
Grow Up to 40% More Healthy Food
3x Faster Using aeroponics + NFT, aeroponic tower garden HT06 grows plants with only water and nutrients. Our aeroponic tower garden can grow plants 3X faster and produce 40% greater yields on average. That means you'll be enjoying abundant, nutritious harvests all year round without having to wait long.
Components are Small and Systemic
Components are small and systemic adds another advantage of the aeroponic tower garden–the transportation costs down. No matter it is one aeroponics system for sale or many aeroponic growing systems for a farm order, smaller packing, fewer freight expenses.
Widely Applicable
It is loved by many families and used to grow vegetables, lettuce, tomatoes, strawberries, radishes, etc. The PVC material makes it durable, weighs well, and is not easy to damage. In addition, it is also used in backyards, gardens, greenhouses, commercial farms, and other places.