Be confident that you will increase your yields and crop quality with this super bright horticulture LED grow light, FC01A08D! FC01A08D is a full spectrum 800w LED grow light meant to provide enough uniform light for a 5 x 5ft grow space. It features quality components and has some features that make it stands out in the market. It is supposed to have an equivalent light output of a 1000-watt HID bulb. The PPF is rated at 2320μmol/s with almost every photon absorbed by the plant, and efficacy at 2.9μmol/J.
Auxgrow commercial LED grow lights FC01A08D uses the quality white diodes designed by Samsung which cover a wide spectrum of PAR and produce more intense light with fewer watts. It also incorporates the most efficient Osram 660nm diodes that create an ideal spectrum for vegetative and flowering stages.

Click and View Product Video
Commercial LED Grow Lights FC01A08D
Power: 800W
PPF: 2320μmol/s
PPE: 2.9μmol/J
Dimension: 1100*1050*100mm
Samsung and Osram LEDs
Full spectrum 3000K, 5000K, 660nm
Input Voltage: Standard AC100-277V, 277-480V Optional
Inventronics LED driver
Power Factor: 0.98
Knob Dimmer & RJ14 Port
Lighting Coverage: 2500mm × 2500mm
Rating: IP65
Lifetime: 54,000hrs
Full Spectrum Commercial LED Grow Lights
Perfectly imitating the sun's spectrum, each grow bar contains three types of LED's-warm(3000k), blue(5000k) and deep-red(660nm), ideal for all growth stages. Drawing just 800W, our commercial LED grow lights won't eat up your energy bill while producing a healthy 2.9μmol/J. Highly energy efficient, our 800w LED grow light's deliver powerful light output resulting in higher yields for your plants.
Samsung and Osram LEDs
With over 54,000 Hours Lifespan, the industry-leading Samsung LM301B and Osram 660nm LED's will keep your plants blooming crop after crop. Our horticulture LED grow light is equipped the full color spectrum 3000K 5000K 660nm, they are ideal for all growth stages. We can also update to lm301h LEDs, or add commercial LED grow lights with UV and IR LEDs according to customer requirements. meanwhile, we have more configurations with higher PPF efficacy for people to choose from.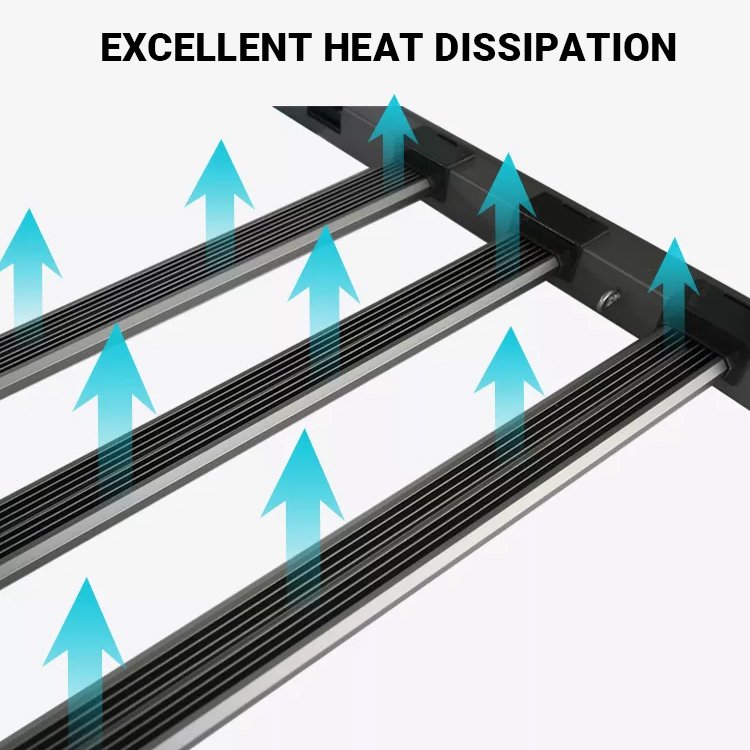 Excellent Heat Dissipation
800w LED grow light has a unique appearance and solid design, using the best quality 6063 aluminum material for the light body, the best heat dissipation and touch. Each light weighs 1KG, which is 30% heavier than others. Keep a low temperature after a long time working, most importantly the best heat dissipation can guarantee the long life of horticulture LED grow light, the brightness is reduced to 3% under 30,000 hours.
Horizontal and Vertical Suspension
These commercial LED grow lights can be hung horizontally not only as top lighting, but also vertically as side lighting, which is especially good for tall plants where there is concern that the bottom of the plant will not absorb enough light to grow. 
0-10V Dimmer 
Customize the brightness for your plants 
Equipped with a simpler and more effective dimmer switch.
800w LED grow light makes your growing easier by adjusting the brightness from 0% to 100%