ODM and OEM Services are Available
Do you want to grow more greens for your family or you want to build your hydroponic farm? At this point, building a DIY hydroponic system is a great solution for the limited space. We are a reliable and experienced all-in-one manufacturer. We are not only professional in designing, customizing, but also producing hydroponic tower garden with lights. Another key point, ODM and OEM services are available. Please feel free to contact us and we are willing to share more details with you.
Particularly, this DIY hydroponic system utilizes vertical space rather than growing horizontally in a traditional hydroponic environment. They require some type of support structure, plant openings and a watering/drainage system. However, DIY hydroponic system ideas are endless, and creating your own unique homemade garden tower is both fun and easy.
About DIY Hydroponic System HT08
Input voltage: 220V
Power: 75W
Tower Size: 1540*400*400 mm
Outer Frame Size: 175*42*42 cm
Input: AC 100-240V / 50-60Hz
Layers: 14
Plants Quantity: 42 plants
Light Source: 4pcs Full Spectrum LED Grow Lights
Material: PVC
Brushless DC Pump
Control Method: Mobile App / Mechanical Timer
Full Spectrum LED Grow Light
Constant current drive design without flicker, lifespan>50000 hours. The LED lighting system simulates the sunlight spectrum and providing the necessary full spectrum of lights to support indoor gardening plants that maximize photosynthesis.
Dislocation Design
The staggered design, staggered across, not only satisfies the visual, but also gives plants a wider space to grow and fully limited space. With this DIY hydroponic system you can grow lettuce, peppers, strawberries, rosemary, spinach, kale, etc.
3 Control Method
APP remote control & Mechanical timing control & Outdoor intelligent timing control.
Either control mode is simple, practical and easy to control.
Water Level Gauge
Clear water level display, bright color, large observation angle, easy to observe the water level, and add nutrient solution and water in time. If you need to go out for half a month or more, please fill up the water first to avoid lack of water.
Convenient Movement
Hydroponic tower garden with lights HT08 is equipped with universal wheel. The wheels allow horizontal 360-degree rotation, convenient space to move without effort. It can be moved outdoors when the weather is fine, and moved indoors in bad weather.
Year-Round Indoor Growing
This DIY hydroponic system can be used for growing fresh herbs, vegetables, and fruits 365 days a year. It's exciting to see plants bloom and thrive, and hydroponic tower garden with lights is not only makes your life more enjoyable, but also makes it healthier.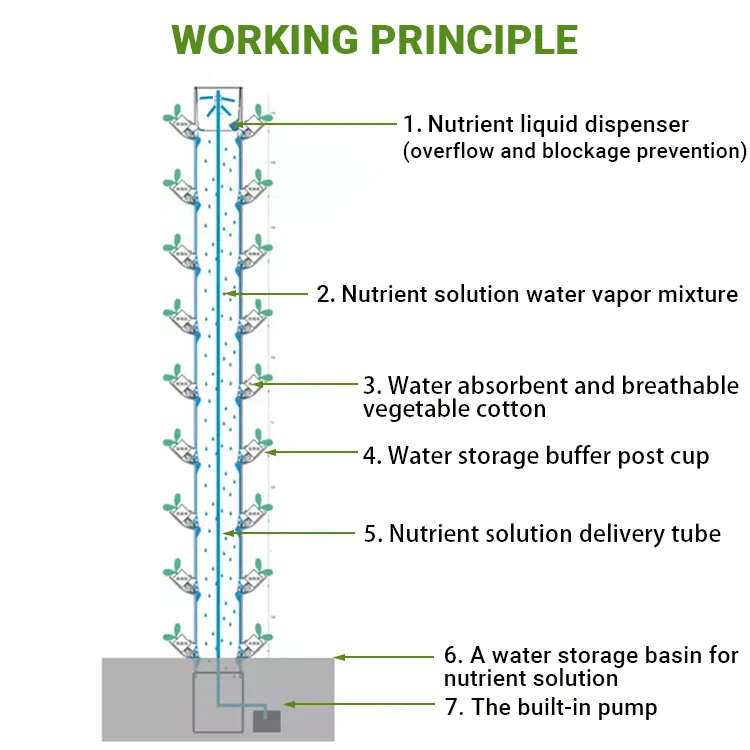 Working Principle
Nutrient solution will flow from the bottom water tank to the top under the work of the water pump.
The trap will send the nutrient solution to every top planting hole.
Nutrient solution will flow down layer by layer, and then return to the water tank.
The roots are kept moist without being soaked in the water, keeping the roots in the air.
Features
Simple and practical, easy to operate.
Uniform nutrient solution allocation and full spectrum LED grow light control.
Water mist cultivation: Keep away from rotten roots and nitrite.
Column staggered design: Make full use of space and maximize yield.
Assembled in layers, easy to transport, height can be increased.