Low Energy Consumption: Full spectrum grow lights for indoor plants use Samsung diodes, higher PAR output, and efficacy up to 2.9μmol/J. Allows you to get 30% more yield than traditional HPS/MH grow lights. Energy saving, more efficient and long life.
More Light than Flat Panel: 98% Reflectivity Reflector Hood; Advanced aluminum reflector with refined angle; High light concentration; Maintain optimal PAR, strengthen light penetration; Boost the yields maximumly.
Dimmable LED Grow Lighting: Built-in control board; Upgraded dimmer with high precision 0%~100% dimmable range and on-off switch, making the full spectrum grow light adaptable to germination, veg, bloom, and fruiting periods of plants; Multi-Lights connecting supportable, external controller supportable; Convenient one-knob dimming by the main light.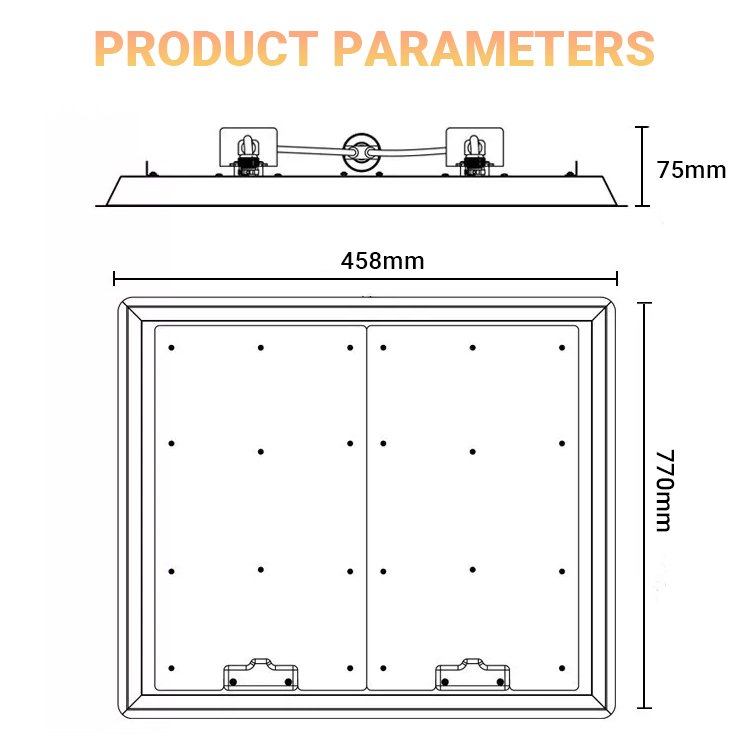 Model: DP01A04D
Power: 450W
PPF: 1305μmol/s
PPE: 2.9μmol/J
Dimension: 458*770*75 mm
Warranty: 3 Years
Rating: IP65
Knob Dimmer
Aluminum Reflective Hood
120° emitting angle
Hang hooks kit included
Lifetime: 54,000hrs
Working Temperature: -10℃- 40℃
Heat Dissipation: 100% Passive
Samsung and Osram LEDs
Full spectrum 3000K, 5000K, 660nm and IR 760nm
Input Voltage: 100V~277V AC, PF>0.98
UL certificated LED driver
IP65 Water-Resistant
Auxgrow full spectrum grow lights for indoor plants are coated evenly. The solid glue process on each chip can avoid moisture effectively, avoid the diode from being oxidized by air, and ensures a longer life for the light. Suitable for kinds of indoor using environment.
High Efficiency & Low Energy Consumption
Adjustable spectrum LED grow lights utilize the latest in high-yielding SMD LEDs technology, high energy efficiency with 2.9μmol/J, and adopt the design of a scientific reflector hood to provide high PAR output and deeper canopy penetration, over 90% of light energy can be absorbed by plants and resulting maximum higher yields.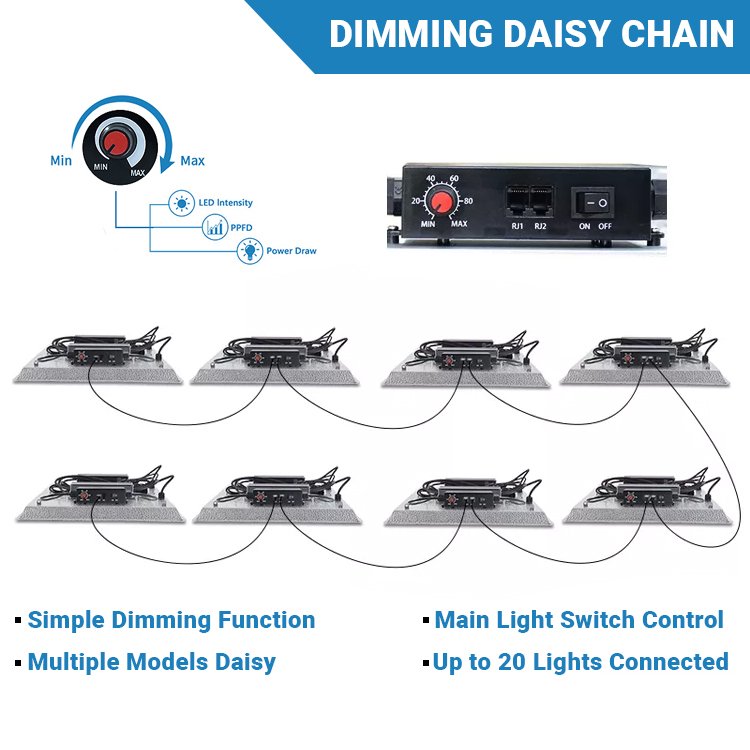 Daisy Chain & Dimmable Feature
Upgrade LED grow light with a single light switch, dimmer, and daisy chain for the driver. Just use 1 outlet can be daisy-chained together and one-knob dimming by main light, and it can be daisy chain up to control 12 units multiple lights from 1 dimmer, and up to 6 units multiple lights can be daisy chained from 1 receptacle for seamless expansion of your growing area.