Auxgrow Hanging Plant Light- 210W lets you grow what you love all year round. This product ensures that your seedlings and plants receive all the necessary light they require to perform photosynthesis regardless of the season, converting the light they capture into sugars necessary for growth. LED grow light panel VG01A02D features 2x highly-efficient white light quantum LED boards and thanks to its Samsung 3030 LEDs white light full-spectrum LEDs it achieves better results for vegetation and flowering of plants. It gives off less heat and are calibrated to meet the needs of plants grown indoors. 
The Samsung 3030 LEDs' feature white full-spectrum light, combined with UV, IR and Far Red. These are optimized to emit more in blue(cool) and red (warm) light, which are the two ends of the spectrum utilized by most plants (yellow and green light are rarely used). That's because red light stimulates plants to flower while blue light stimulates the growth of plant foliage and roots. As a result of the above, hanging plant light is better for your plants, better for the environment, and hit your wallet for less in the long-term due to how ultra-energy-efficient they are. All of this means you'll be able to grow plants, ensure leaves grow stronger, or make flowers bright and beautiful.
Model: VG01A02D
Power: 210W
PPF: 609μmol/s
PPE: 2.9μmol/J
Meanwell LED Driver
Body Color: Silver
Input Voltage: 100V~277V AC, PF>0.98
Lifetime: 54,000hrs
IP Rating:  IP65
Features
Highly-efficient white light quantum LED boards
White light full-spectrum for better results and viewing
Aluminum heat sink with good heat dissipation
Better canopy light penetration with diffused light
Dimmable power supply included
Perfect for growing herbs, autoflowers, leafy plants, and microgreens all year-round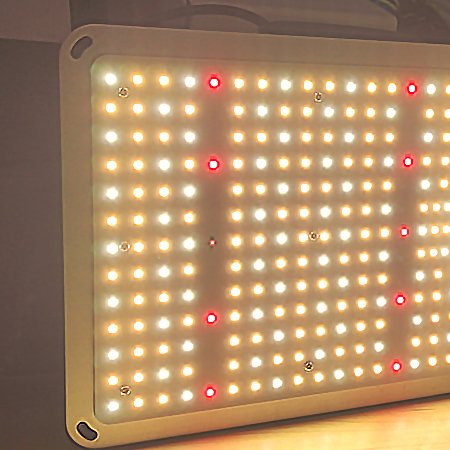 Lower Running Costs & Higher-Quality Yields
This full spectrum light for plants is used with Samsung 3030 diodes, high energy efficiency with 2.9μmol/J, light output PPF is 609μmol/s, create the better canopy light penetration. It only consumes 210w, running 50% less power than the HPS lamps, and still was 50% more harvest.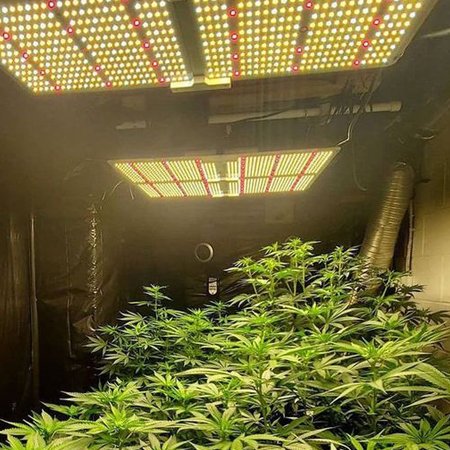 Ideal for All Growth Stages
Hanging plant light consists of 3000K warm white light, 5000K white light, 660nm deep red light, and 730nm infrared light. 3000K diodes providing more reddish light and the 5000K providing more blueish. The 660nm red and IR light accelerate flowering time and boost yields.
Good Heat Dissipation
No fan, No noise. The aluminum heat sink is thick and sturdy with good heat dissipation. Auxgrow LED grow light panel VG01A02D is equipped with a 4mm thick solid heat sink with space between the heat sink and the LED driver for better heat dissipation.
IP65 Waterproof
Our hanging plant light is coated evenly. Solid glue process on each chip can avoid moisture effectively and resist dust, prevents the diode from being oxidized by air. No need to worry about the humid planting environment to damage the grow light.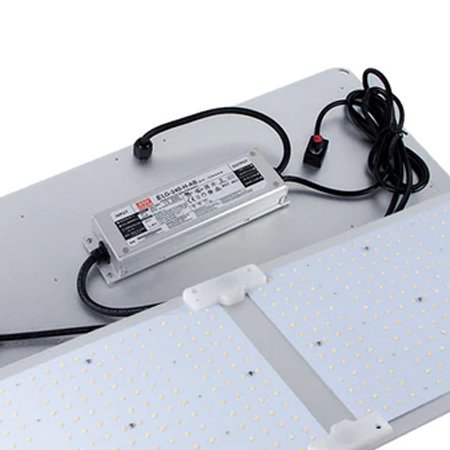 Stable Drive
Well-made Meanwell LED driver has excellent heat dissipation and high-quality components mean the light lasts longer. Thoughtfully designed LED grow light can take good care of your plants and you can easily save money.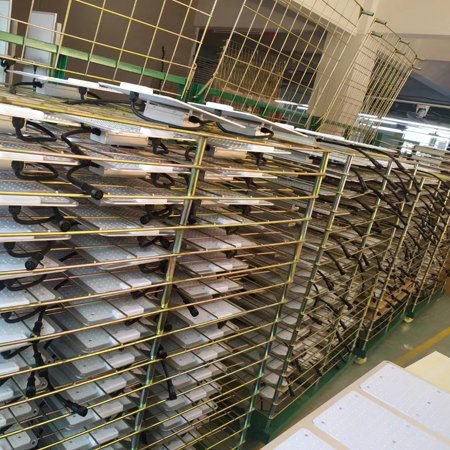 Reliable Service
Auxgrow is an all-in-one LED plant light supplier with 12 years of experience. With powerful and solid technology, we can provide you with excellent and reliable service!