Increase your plant yields and plant health with dimmable LED grow lights! Auxgrow FC01E06D is the perfect grow light for plants using a full spectrum light blend specially designed as a substitute for natural sunlight to promote photosynthesis and plant growth. LED hydroponic LED grow lights offer an energy-efficient and low-heat solution compared to HID or incandescent grow lights.
This LED grow lighting system FC01E06D consumes 640W, is IP65 rated, and has a Photosynthetic Photon Flux (PPF) output of 1728 µmols with an efficiency of 2.7 µmol/J. It is suitable for commercial grow operations or your home growing projects and is great for your indoor plants, succulents, seedlings, herbs, or whatever plant you may be growing. Hydroponic LED grow lights features o-10V dimming capabilities with the option to control up to 20 lights off the same control which allows you to dial in the amount of light needed for your plants at any stage of the grow cycle!

Hydroponic LED Grow Lights FC01E06D
Power: 640W
PPF: 1728μmol/s
PPE: 2.7μmol/J
Dimension: 1120*1067*70mm 
LEDs: SMD3030 LEDs
Full spectrum 3000K+5000K + 660nm
Input Voltage: Standard AC100-277V, 277-480V Optional
Inventronics LED driver
Power Factor: 0.98
Knob Dimmer& RJ14 Port
Lighting Coverage: 2500mm × 2500mm
Rating: IP65
Lifetime: 54,000hrs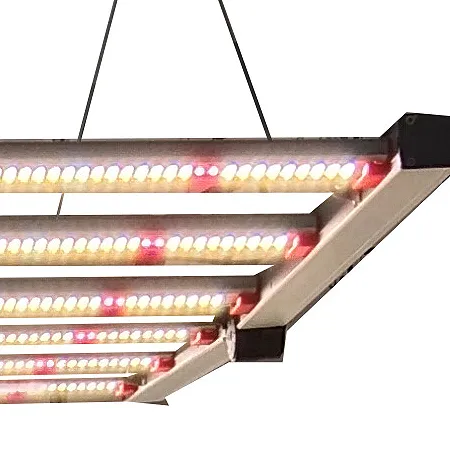 Samsung LM3030 LEDs
Hydroponic LED grow lights using Samsung LM3030 LEDs, delivers powerful light output and uniform canopy penetration to resulting maximum higher yields. Only consumes 640w, running 50% less power and 30% high yields than the HPS or other SMD LEDs lamps. 
Excellent Heat Dissipation
No Fans, No Noise. The light case is a whole aluminum radiator. Low energy consumption FC01E06D dimmable LED grow lights with 6 passive-cooled bars, aluminum heat-sink, excellent performance in heat dispersing & lifespan, dropping 50% in electricity bill than HID lights.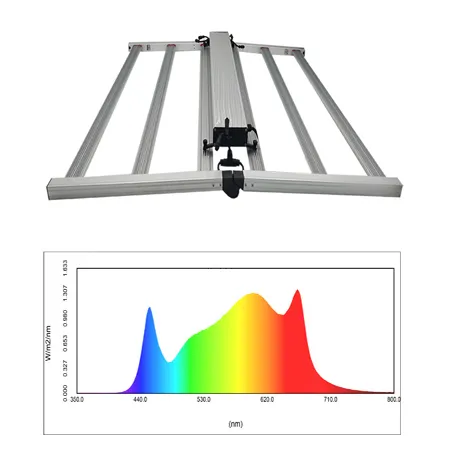 Full Spectrum Hydroponic LED Grow Lights
This LED grow lighting system provides 3000K warm light color, 5000K daylight color, and 660nm increasing deep red color, which can make the light more uniform. It truly simulates the sunlight and perfectly meet the entire growth cycle of all plants from seed to harvest.