Auxgrow Indoor Hydroponic Garden SG36 for Home Growers
No seasonal limitations for growing veggies and fruits.
The indoor hydroponic garden with 15 pods is made for planting herbs and vegetables in water without soil.
Larger water tank and flexible height adjustable: 7.5L large-capacity water tank and adjustable light pole up to 23.6″.
High power 48-watt LED lighting system can make sure the plants grow well even in cold weather.
Water pump to fresh water every 30 minutes.
Touch control panel to adjust growing light.
Smart control: connect to WIFI, mobile APP control, TUYA smart.
Three touch mode control panels: Veg, Flower, Pump. Growth temperature display panel, timing mode.
Enjoy home growing: Build your hydroponic vegetable garden and grow fresh herbs flowers and vegetables all year round and pick fresh fruits and vegetables at any time.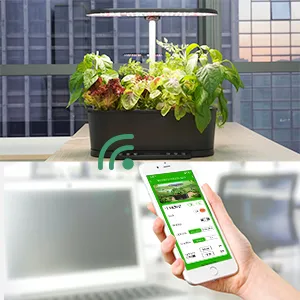 【WIFI Smart Garden】
Control your garden by App. You can control the lighting time of the countertop hydroponic garden at anytime and anywhere, you can also switch the planting mode. When the water is short, the mobile phone will receive the "low water level" alarm message from the hydroponic push.
【Automatic Working Cycle】
The default working mode of hydroponic vegetable garden is 16h on /8h off. For promoting the growth of vegetables, you can manually set different growth times of plants on the application, so that you can enjoy the process of harvest.
【Growing Modes & Multifunctional Control Panel】
The indoor hydroponic garden provides 2 growing modes based on your needs, it is convenient for you to plant health and green vegetables or fruits. The display on the control panel is easy to read, and tells you everything you need to know about the current status of your garden.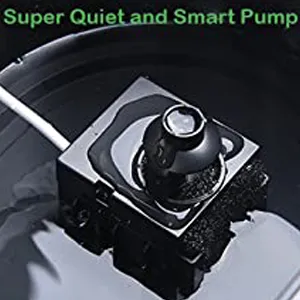 【Super Quiet Water Pump with Alarm Reminder】
This indoor hydroponic garden has a pumping system where the pump is circulated every 30 minutes to increase the oxygen content of the water. It allows the plants to absorb enough nutrients to promote growth. When the water shortage Alert occurs, the water pump will automatically stop working to prevent it from being burned dry, and extend its lifetime.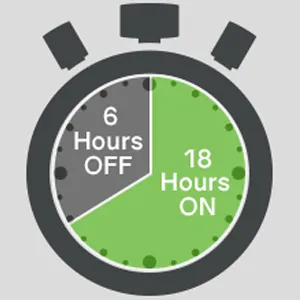 【LED Grow Light】
48watt grow light is beneficial to plants growing indoor without weather limits. Vegetables mode and Fruit mode, it is convenient for your family to plant health and green vegetables or fruits.
【Smart Soil Sponge Pods】
Grows 15 plants at a time. Smart soil sponge pods help plants take root and absorb water. See the natural root with your own eyes.