Description
Auxgrow Hydroponics Growing System (SG01)
Auxgrow is a professional team to develop indoor hydroponics growing system, including LED lighting growing and indoor hydroponics growing.
Indoor plant growing system SG01 is a smart garden kit with beautiful outlook. We designed the hydroponics growing system for fresh herbs, vegetables, salad greens, flowers and more. We can use it in the kitchen, indoor decoration or laboratory teaching. It is equipped with 4 pots garden, high energy efficient LED grow light, no soil, no mess. You can grow any hydroponics plants in this herb garden starter kit which grow plants faster than soil.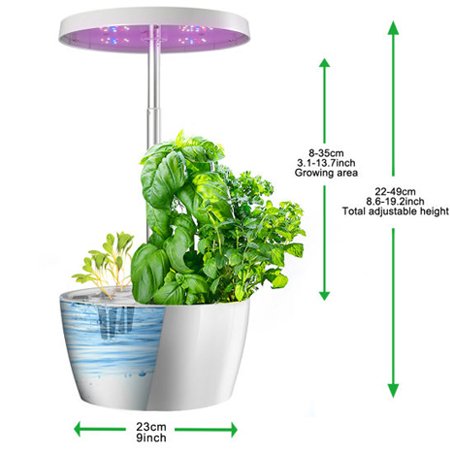 About Indoor Plant Growing System SG01
Dimensions: 8.66×8.66×7.48(H)(lowest)/19.49(highest)inch
Product Weight: 0.98kg/2.16lbs
Input: 100V-240V AC /50-60HZ
Output: 24V
Water Tank Capacity: 2.5L
Number of Plants: 4
Product Type: Hydroponic
LED Light: Full Spectrum; 20W
Includes: 4 pcs pod kit/1 water pump; A+B plant foods
Features
4 plants can grow at a time by Hydroponics.
Full spectrum 20-watt LED lighting system and automatically turns lights on and off.
Touch control panel to adjust growing light, 3 modes: normal/ grow/ enjoy.
Water pump to fresh water every 15 minutes.
Fully adjustable lamp arm has a 24cm/9.5in tall growing space for plants.
Alarms tell you when you add waters and nutrient.
3 Smart Growth Modes
Auxgrow indoor plant growing system SG01 is designed with 3 different modes based on your needs. Growth Mode 1: Normal, Illumination Time 14h/Day; Growth Mode 2: Enjoy, Illumination Time 12h/Day; Growth Mode 3: Grow, Illumination Time 16h/Day.
No Season Limited
The countertop hydroponic garden up to 4 plants can be grown at a time, allow you to grow whatever you want in any season at any place. Enjoy this indoor plant growing system to plant fresh herbs, vegetables, salad greens, flowers, cherry tomatoes, rosemary and peppers all year around, even in the cold weather.
LED Grow Light
The indoor plant growing system are designed with high effective customized spectrum 20W LED lighting system is tuned to the specific spectrum for plant growing, providing the necessary spectrum of lights to support indoor gardening plants that maximizes photosynthesis, resulting in rapid natural growth, and abundant harvests.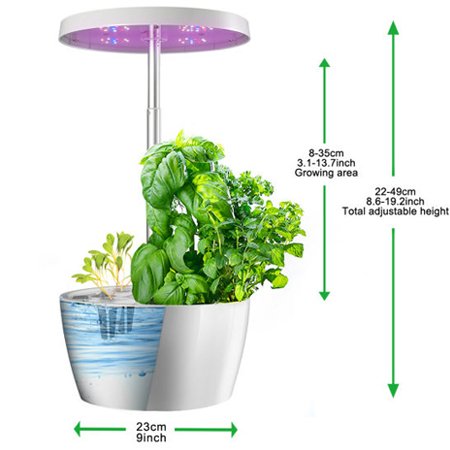 H

eight Adjustable
The lighting part of herb garden starter kit can be adjusted in height in order to provide the right amount of luminosity for each plant. Ensure your plant gets enough light in every stage.