The 7-pod indoor hydroponic system is our most popular countertop garden. It's an ingenious way to grow your own food requires zero soil.
• Grow Fresh Herbs & Vegetables Year-Round
• Plants Grow Naturally in Water: No Soil, No Mess
• Energy Efficient LED Grow Lights for Faster Growth
• Simple Reminders Take the Guesswork Out of Growing
• Sprouts in Days, Harvest in Weeks, Enjoy for Months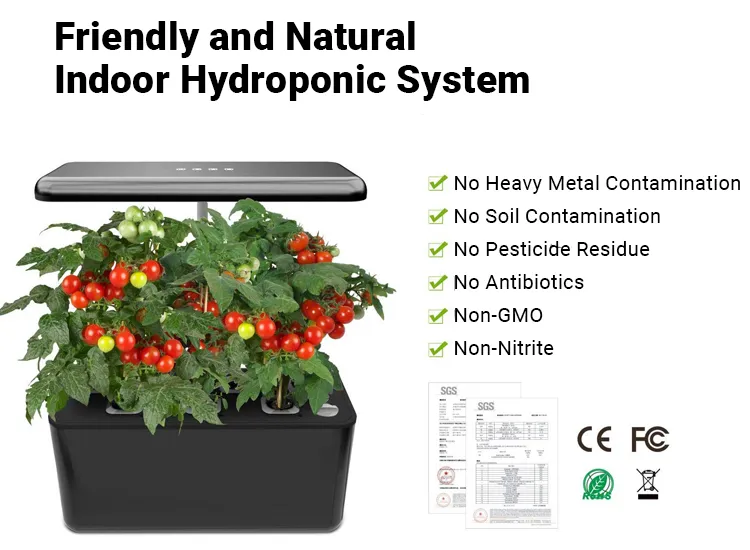 Auxgrow Indoor Hydroponic System SG10 Product Specification
Input: AC 100V-240V / 50-60Hz

Output: DC 24V
Plug: US, UK, AU, EU
Number of Pods: 7
Larger Water Tank Capacity: 4L
LED Light: 25-Watt Full Spectrum
Color: White / Black
Timing circulating water pump
Automatic reminder for low water level
Size: 13.38 * 5.51 * 16.8 inch to 19.68 inch
Certificate: CE, EMC, ETL, FCC, GS, LVD, PSE, RoHS, Reach, Saa, VDE
Hydroponics System
The germination kit is made for planting herbs and vegetables in water without soil, resulting in more rapid growth. Plants growing in the nutrient water faster than soil. The indoor hydroponic system requires no soil, ensuring a natural and green experience free of contaminants.
LED Grow Light
Mini hydroponic garden features effective full-spectrum lamps. High performance, full spectrum 25W full-spectrum LED high efficiency grow lighting system is tuned to the specific needs of plants to maximize photosynthesis. Your plants will grow up healthily and strong regardless of the weather outdoors.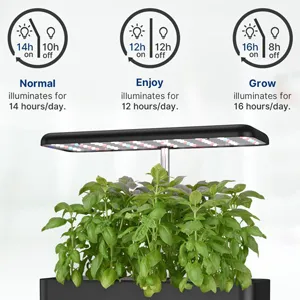 3 Growing Modes & 2 Pump Modes
The mini hydroponic garden provides 3 light modes: Normal Mode: automatic illumination time is 14 hours a day; Grow Mode: illumination time is 12 hours a day; Enjoy Mode: illumination time is 16 hours a day.
The pump automatically runs for 30 mins and turns off 30 mins.

No Seasonal Limitations
No seasonal limitations for growing veggies. The indoor hydroponic system with 7 pods supports up to 7 Veggies at a time. Always fresh, always local, and always in season. Cook delicious meals throughout the year with fresh vegetables and fruits.