Indoor vegetable garden system gives you the opportunity to plant plants where there is little ground garden space, so it is very suitable for people living in apartments. If you just want to have a small garden and plant plants by hydroponics, you can save water and reduce the use of chemical fertilizers and pesticides.
Features of Indoor Vegetable Garden System SG28
Grow up to 6 hydroponic plants at a time. Full spectrum 15-watt LED lighting system.
Touch control panel to adjust growing mode which has 3 modes: Normal, Enjoy, Grow.
Water pump to fresh water every 30 minutes. Fully adjustable lamp arm has a 40cm tall growing space.
It comes with a visual window and convenient to know how much water in the water tank.
Product Data about Indoor Vegetable Garden System SG28
LED Power: 15W
Water Tank: 2.5L
Plant Pods: 6pcs
Input: AC 100V-240V / 50-60Hz
Output: DC 24V
Plug: US, UK, AU, EU
Material: ABS
Color: White / Black
Weight: 1.9kg
Size: 31.5 * 14 * 21cm to 54.5cm, Box: 33.5*22*16cm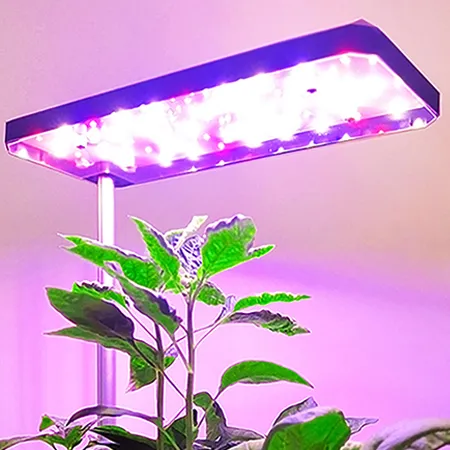 15-Watt LED Grow Light
Indoor vegetable garden system SG28 is equipped with a 15W full-spectrum LED growth light. We designed this LED light based on the photosynthesis of plants. It can provide red, white and blue light, which can meet any light required by the plant growth process!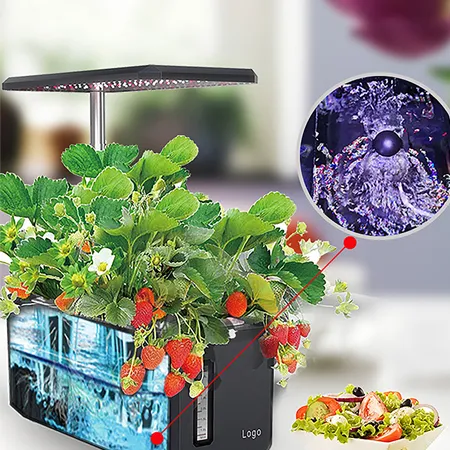 Low Noise Hydroponic Kitchen Garden
The indoor vegetable garden system is equipped with a water pump, and the noise generated by the pump is less than 35db, so that your sleep will not be disturbed.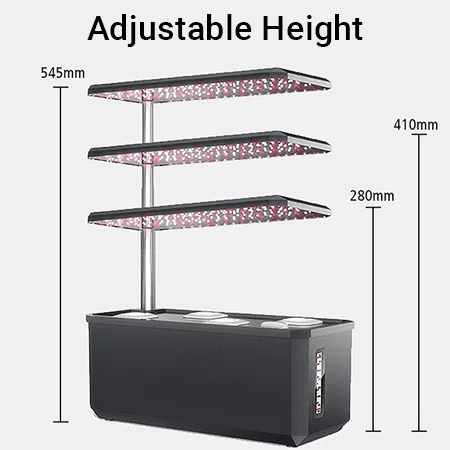 Adjustable Height
The height of the lampshade in the countertop hydroponic garden can be adjusted at will to meet the growth needs of plants in different periods. The maximum adjustable height of the lampshade is 16 inches, so you can grow most plants.
Visual Window
The indoor vegetable garden system has a visual water window, so you can see the amount of water in the water tank at any time. The maximum water capacity of the water tank is 2.5L, please do not exceed 2.5L when adding water.
How to Use
Follow the instruction to set up the machine.
Make plant food solution.
Add Water and plant nutrients into the water tank.
Insert the plant pods into the plant baskets, put your seed into the plant pods, and then place the plant pods into the planting port of the water tank lid.
Open the machine and choose one mode.