Description
Auxgrow greenhouse lighting system provides indoor plants with full-spectrum sunlight replacement. It is ideal for all growth stages with warm white light 3000k, blue light 5000k, red light 660nm and IR 760nm. Moreover, benefited from the adjustable light panel design, the efficiency of the central area will be increased by more than 25%. LED Plant Grow Light VG01A06D is a perfect option for indoor plants growing.
LED Plant Grow Light VG01A06D
Power: 600W
Dimension: 720*600*55mm
PPF: 1740μmol/s
PPE: 2.9μmol/J
Samsung LM301b LEDs
Full spectrum 3000K, 5000K, 660nm and IR 760nm
Quantum board design, silver color
Meanwell LED driver
Input Voltage: 100V~277V AC, PF>0.98
Knob Dimmer
Hang hooks kit included
Lifetime: 54,000hrs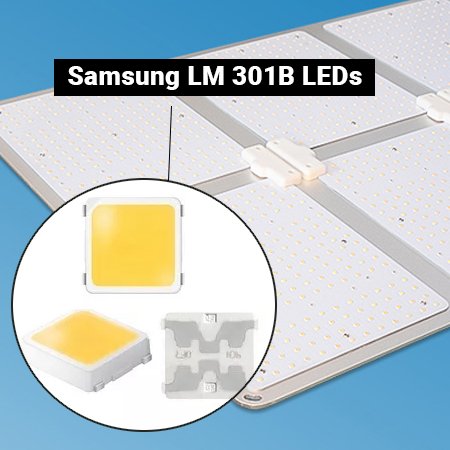 SAMSUNG LM301 LED
The higher light intensity, less lumen depreciation, better lumens, and Higher PAR values than ordinary LED chips. The Samsung LM301B is the highest light output and full-cycle LED for LED plant grow light at present, create more than 40% higher yields with less energy.
MEANWELL Driver
Greenhouse lighting system is equipped with Meanwell driver, which makes the luminous efficiency and performance of the high-brightness LED significantly improved. High safety performance, UL listed and IP65 MEANWELL Driver 100-277V input voltage. >50,000hrs longer lifespan.
Large Aluminum Plate Heat Sink
No Fan, Zero Noise. With a large solid aluminum heat sink for passive cooling, a special protective cover for the cable, and a waterproof LED board. Greenhouse lighting system VG01A04D has a thick and sturdy aluminum heat sink equipped with a 4mm thick solid heat sink for good heat dissipation.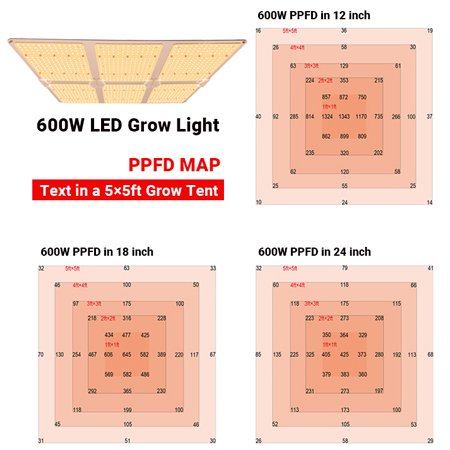 Real Full Spectrum
This LED plant grow light is tailored for indoor plant growth with a true full spectrum of sunlight, (380nm-800nm, 3000K, 5000K) blue, white, red (660-665nm) and infrared (IR 760nm), providing every spectrum of natural sunlight that plants need to optimize every stage of plant development.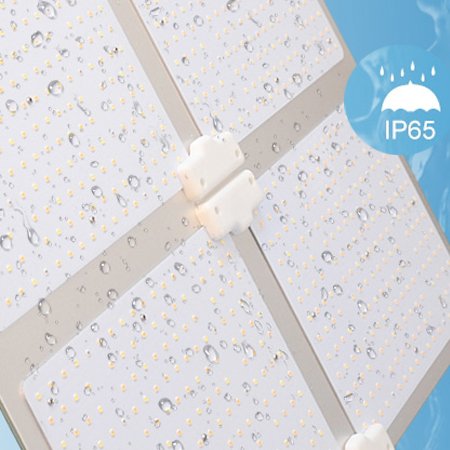 IP65 Waterproof
Our LED lights for indoor plants are coated evenly. Solid glue process on each chip can avoid moisture effectively and resist dust, prevents the diode from being oxidized by air. No need to worry about the humid planting environment to damage the LED plant grow light.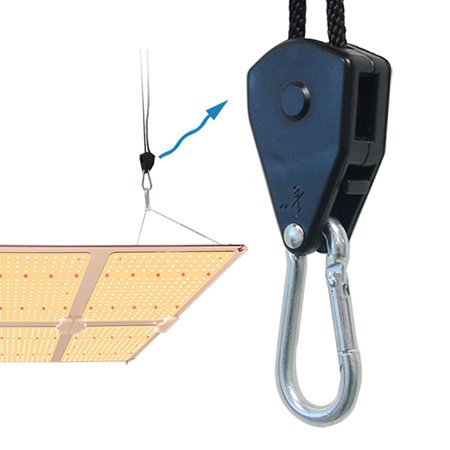 Rope Ratchet
Simple operation and easy adjustment. The LED plant grow light is equipped with rope ratchets, which can be used to adjust the height of the LED lights for indoor plants, according to the different lights required for each stage of plant growth.