Description
No space has been wasted on the LED plant growing light. It keeps purchasing and running costs as low as possible whilst still managing to deliver a seriously impressive performance in terms of brightness! You get 430W of power, a PPE rating of 2.9μmol/J and a PPF reading of 1247μmol/s – impressive for a dimmable grow light! On top of this you can expect a full spectrum of light proven to deliver results over the entire plant lifecycle, a compact, lightweight and low-profile design suited to relatively tight spaces and an excellent build quality capable of withstanding harsh growing conditions. A highly recommended product for beginners and newcomers to LED technology! 
LED Plant Growing Light VG01A04D
Power: 430W
PPF: 1247μmol/s
PPE: 2.9μmol/J
Meanwell LED Driver
Samsung LM301B LEDs
Input Voltage: 100V~277V AC, PF>0.98
Lifetime: 54,000hrs
IP Rating:  IP65
Features
Stripped back design where cost savings are reflected in the price
Extremely efficient LED unit reduces energy bills vs HPS fixtures
Full spectrum of light for grow and bloom cycles
Onboard dimmer dial for manual adjustments to intensity
Ports for connecting to a 0-10V controller and linking multiple lights
Compact in size to mini mise impact on your growing area
Features reliable Samsung LM3030 Diodes and a Meanwell driver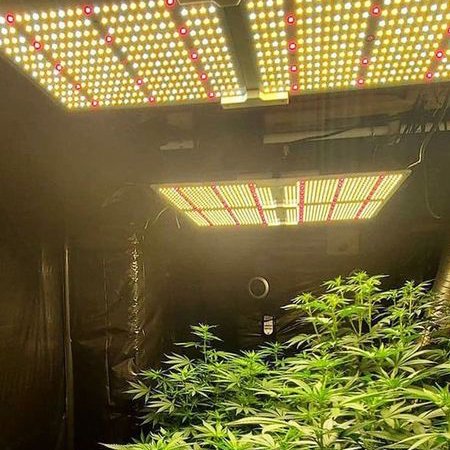 Samsung Diodes
This LED plant growing light is used with Samsung LM301B diodes, high energy efficiency with 2.9μmol/J, light output PPF is 1247μmol/s, create the better canopy light penetration. It only consumes 430w, running 50% less power than the HPS lamps, and still was 50% more harvest.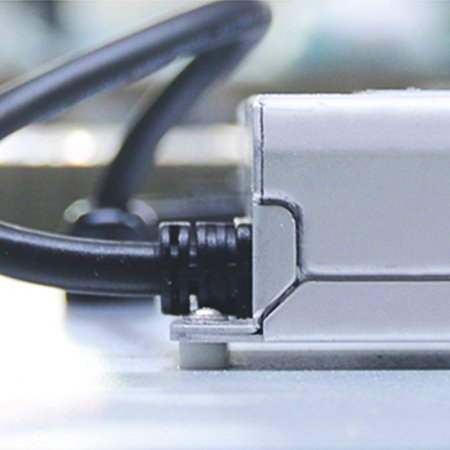 Good Heat Dissipation
No fan, No noise. The aluminum heat sink is thick and sturdy with good heat dissipation. Auxgrow dimmable grow light VG01A04D is equipped with a 4mm thick solid heat sink with space between the heat sink and the LED driver for better heat dissipation.
Stable Drive
Well-made and solidly constructed Meanwell LED driver has excellent heat dissipation. High quality components mean the light lasts longer, LED plant growing light take care of you with a more thoughtful design, and you can easily save money.
Flexible Dimming Function
This LED plant growing light has a dimmer knob to change the brightness level of the whole light from 1-10V needed to obtain perfect growth performance. Energy saving and more efficient.
VG01A04D Product Show Video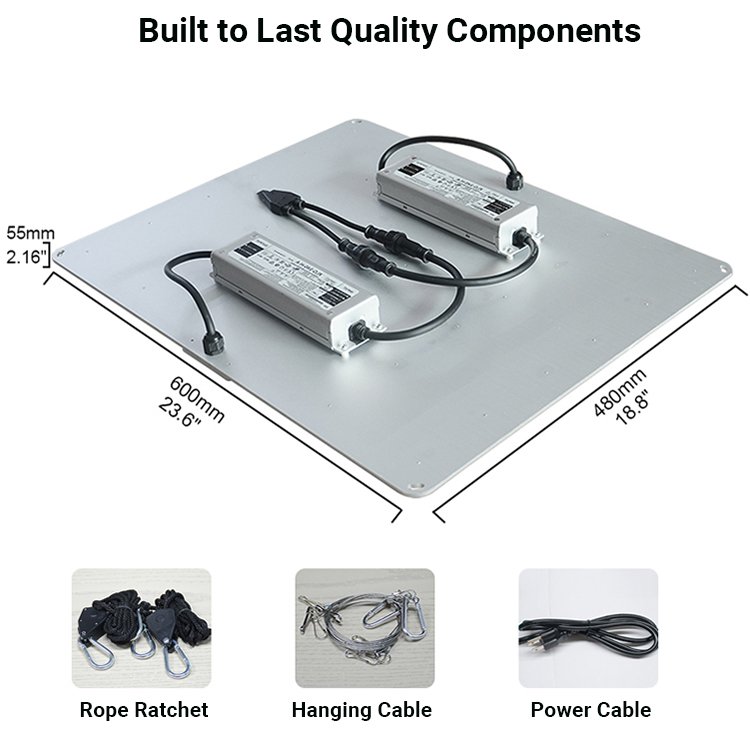 Built to Last Quality Components
Branded components that include Samsung LM301B diodes and a Meanwell driver can be found on the Auxgrow dimmable grow light VG01A04D, which contribute towards its excellent performance and reliability. An impressively long lifespan of 50,000+ hours engenders trust from the user, as does the reassuring 3-year manufacturer's warranty. You even get decent hanging cables and rope ratchets thrown in, eradicating the need to purchase separate equipment. A dimmer dial for manual light adjustments is located on top of the LED panel, along with an ON/OFF button and ports that give you the option of connecting and automating multiple waterproof LED grow lights using a 0-10V controller.
Ultra-Efficient and Super Bright 
Using only 430W of power, the LED plant growing light VG01A04D is effortlessly able to produce an intensely bright light for your plants. The secret lies in its immense PPE rating of 2.9μmol/J, which combines with the total output of the unit to give you a fantastic PPF reading of 1247μmol/s! The full spectrum of light kicked out by this LED plant growing light is perfect for use throughout the grow and bloom stages, although some people only choose to deploy it during propagation due to the low wattage. The compact nature of the product takes up a minimal amount of your grow space and will suddenly make some previously dismissed areas suitable for plant cultivation. Similarly, the cool-running design helps a lot here and prevents heat issues.