Description
640W professional LED grow light is a high-output and full-term lighting solution for indoor vertical farming and grow room, with SMD3030 LEDs and high-quality Inventronics LED drivers to scale from vegetative growth to higher light intensities in bloom. This hydroponic grow light LED has the popular design of 8 lighting bars focused on distributing much light as even as possible across the plant canopy with full spectrum to adapt to each phase of the plant growing cycle.
The PPFD for this professional LED grow light is also quite impressive, 2160 µmol/s at 6″ distance. That's enough to boost your plant's yield according to a 20-40 µmole of grow light per day requirement. Besides that, it is dimmable, so you may easily adjust the intensity of grow lights for the veg and flowering phases.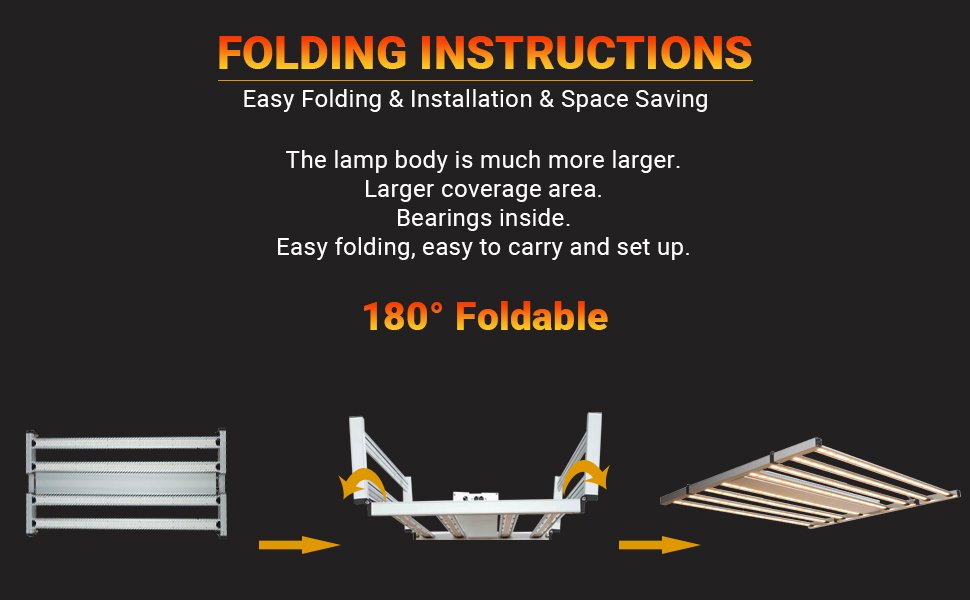 Unique Foldable Design
The professional LED grow light is composed of 3 parts of uniform size, each of which can be folded 180 °. This design helps us to shipping and packaging more easily, and save costs. The optimized compact design can reduce 40% shipping cost than traditional LED grow light.
Flexible Dimming
There is a dimmer knob built right into the hydroponic grow light LED, featured to manipulate the light brightness and intensity at liberty from 0%-100%, provides desired needs for plants in all stages from veg to bloom.
Full Spectrum Greenhouse LED Grow Lights
This professional LED grow light adopts SMD3030 LEDs, provides 3000K warm light color, 5000K daylight color, and 660nm deep red color, which can make the light more uniform. It truly simulates the sunlight and perfectly meet the entire growth cycle of all plants from seed to harvest.