Single Bar Grow Light Specification
Model: GB15
Lighting Power: 150W
DIY to Multi Bars Use 150W*N
Light Source: LED
Spectrum 5000K+660nm+760nm LED
Efficacy: 2.9 umol/J
PPF(380-780nm): 435 umol/S Each Bar
PPFD (2Ft): 1200 umol/s*m2
AC Input Voltage Frequency: 100-270V AC, 50-60Hz
Light Distribution Mounting Height: >2ft above the plant canopy
Thermal Management: Passive
Max Ambient Temperature: 105℉/45℃
Dimming: 0-10V / PWM
Power Factor: >0.95
Total Harmonic Distortion: <15%
Lifetime: >50,000hrs
IP Rating: IP65
The waterproof LED grow light bar can work stably for a long time in harsh environments.
Warranty: 5 years warranty
Dimensions: L800mm * D70mm * H40mm
Product Weight: 2.5kg/bar
With its modular customization, high-performance lighting, ease of use, and safe and reliable design, this LED grow light bar product delivers a low-cost, high quality and environmentally friendly growing experience.
Modular Assembly
The modular design of this grow light bar for indoor plants provides a simple, flexible, and controllable solution for many growers.
Place LED grow bar lights on the 3030 aluminum profile, the grower can flexibly assemble it according to the different sizes and shapes of the planting space.
Please select an appropriate number of LED grow lights bar for installation to obtain the ideal light effect and coverage area.
At the same time, when your growing project is expanded or the growing demand increases, additional light bars can be easily added to increase the overall light output and coverage.
Do not worry about the new components affecting the performance and light effect of the existing system.

High-Performance Lighting
We know that light is the most critical environmental factor affecting crop growth quality and yield.
This lighting system consists of multiple 150W high-performance bar grow lights. Each light bar integrates multiple high-power red and blue LEDs to provide professional-level light output.
We use the latest LED technology and optical design. Each bar grow light can reach a light intensity of 1200μmol/m2/s to meet the lighting needs of plants at different stages of the growing cycle.
Its high-density photon flow can maximize the efficiency of photosynthesis and allow your seeds, seedlings, and mothers to achieve their maximum growth and yield potential under sufficient light nourishment.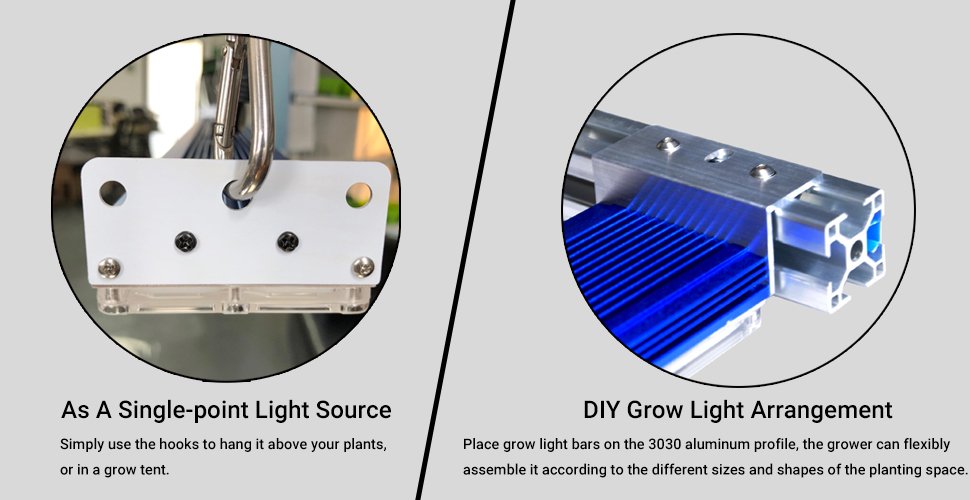 Easy to Use
Each LED light bar is an independent high-performance lighting system that you can easily assemble and change in minutes.
This means that whether in the design of the growing space or during the cultivation process, when you adjust the stronger or softer light, or want to change the range and angle of the light, you can easily rearrange and replace these LED grow light bars.
LED bar grow light can not only greatly shorten your installation and commissioning cycle but also be dismantled, stored, and reused after use, truly achieving on-demand customization of grow lighting.
We believe that simplicity, flexible, and sustainable will be the future direction of development in this plant lighting industry.
Safe and Reliable Design
We know that safety and durability are of great significance to professional growers.
This plant grow light bar uses the highest quality materials and waterproof design, and the waterproof rating is up to IP65. It provides unmatched safety and durability.
It has excellent thermal management and uses passive cooling and temperature control technology.
Grow light bar LED GB15 can ensure that the surface temperature of the lamp body is kept below 45°C even after a long operation thereby achieving ultra-long service life and stable performance of the product.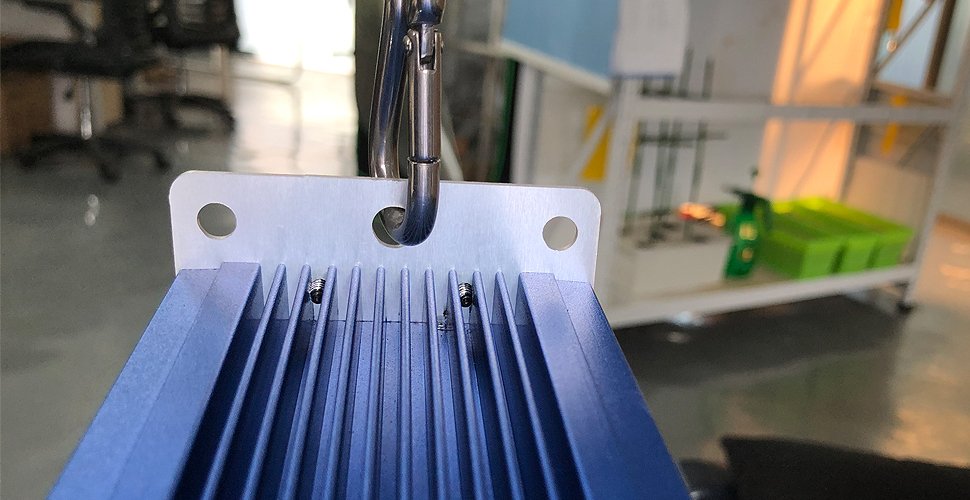 A Good Growing Experience
Excellent performance, safety guarantees, modular design, and high installability, all in one advantage grow light bar for plants can create the grower's ideal lighting effect and environment, and at any time to adjust the optimization.
Even in the later stages of the growing cycle, when the demand for light is increasing, these grow light bars can be easily expanded and replaced to gradually upgrade the system to higher power without changing the illumination range and effect.
At the same time, based on SOSEN Driver's high reliability and accident risk reduction, growers no longer have to worry about production losses caused by equipment failures or emergencies. They can focus on the progress and creation of their projects with peace of mind.
The ultimate value of any product lies in the experience it can provide to customers.
We hope that the introduction of this single bar LED grow light GB15 can not only meet the needs of growers for powerful and efficient grow light systems but also bring about a revolution in the growing experience.
If you have been looking for high power LED grow light bars, this product was created to meet your long-cherished growing dreams.
LED bar grow lights GB15 will redefine your perception of grow lighting with its extraordinary performance and infinite possibilities.