Do You Need Light Controllers for LED Grow Lights?
The Auxgrow wifi grow light controller is a highly efficient and intelligent system created for growers. It is specifically designed to control plant grow lights and offers users excellent control and precise information. The keypad and display area of the main unit makes it a breeze to adjust brightness and timing to suit your specific needs.
The intelligent grow light timer controller uses WiFi network communication to exchange data with the cloud server, enabling remote data exchange through a cell phone. Once connected to the Internet network, users can easily adjust the lighting parameters using the mobile application.
The main controller comes fully equipped with two sets of RJ14 and RJ11 ports, specifically designed for the RJ interface of plant grow lights. The smart controller enables users to seamlessly manage up to 200 grow lights wirelessly with just one touch, utilizing the two groups of wires for streamlined network control.
This device has a feature that simulates the natural lighting patterns that affect plant growth. You can adjust the brightness levels at different times of day to simulate the sun's spectral illumination. This helps to create optimal growing conditions for plants and achieve better results.
The manual setting for the LED light controller box has four timer parameters. The light gradually changes over time, mimicking the natural process of sunlight.
However, the biological rhythm setting in the mobile app is not as smooth and can result in abrupt changes. To mitigate this, the app offers multiple timing parameters that allow growers to set precise conditions for their plants' growth, resulting in faster and healthier growth.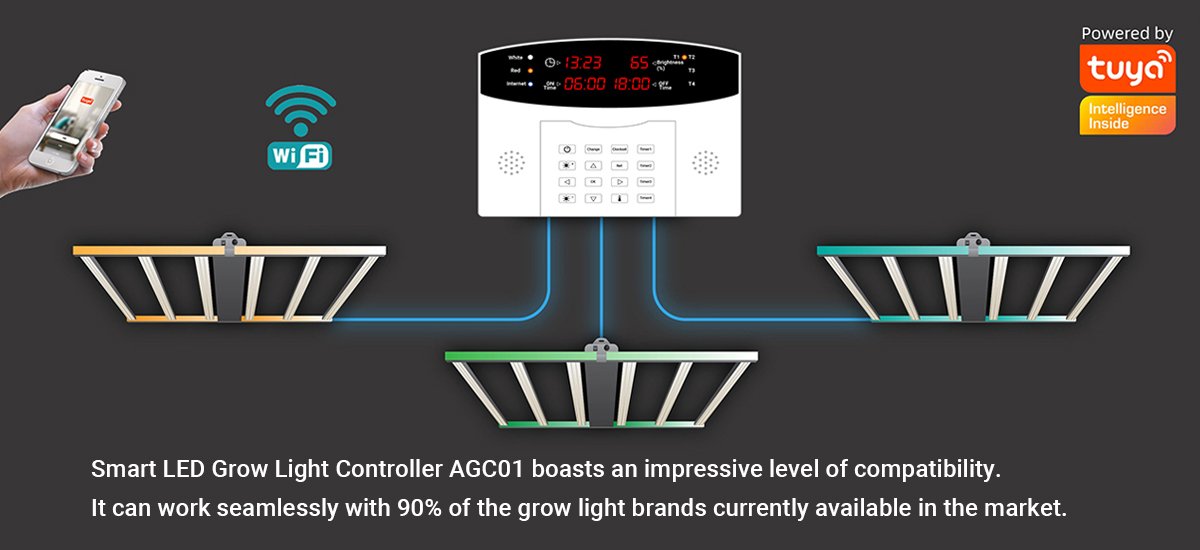 What Makes Auxgrow LED Grow Light Controller A Great Choice?
Smart lighting control systems work well with iOS and Android, and the setup is simple. Its user-friendly interface enables you to have accurate control.
This device offers great flexibility, allowing users to effortlessly customize their own grow light control system.
When selecting a grow light, it's crucial to consider its compatibility with other equipment.
In the case of Mars Hydro LED grow lights, you'll require the Mars Hydro light controller and smart power strip.
The same applies to Spider Farmer grow lights. Spider Farmer grow light controller can not control the Mars LED light. If you switch brands, you'll have to replace the entire setup.
Fortunately, our Auxgrow control box works seamlessly with most grow light brands, including Mars Hydro and Spider Farmer. This makes it a versatile and hassle-free option for growers.
To enhance your control, convenience, and comfort in your grow room while maximizing energy savings and yield, consider incorporating the Auxgrow smart LED lighting control system.
Features & Benefits of the Smart LED Grow Light Controller
● Android & iOS App Powered by Tuya
● 2.4G& 5G Dual-band WiFi
● Connect up to 200pcs grow lights by RJ port
● Compatible with most brands of grow lights
● RJ11 to RJ14 cable included
● Built-in temperature sensor, humidity sensor, and carbon dioxide sensor
● Support remote and offline controlling
● Ideal for horticulture, hydroponics, greenhouse, and so on
● Timer, dimming, like Sunrise & Sunset
● No battery is needed
Smart LED Grow Light Controller Specs
Brand: Auxgrow (customization available)
SKU: AGC01
Max lights per controller: 200 Units
Output: AC 100-277V
Input Power: DC 5-9V
Cable: RJ14*2, 6P4C/ RJ11*2 PWM
WIFI: 2.4Ghz & 5Ghz
Dimensions: 7.09″ × 5.32″ × 1.06″
Provide Customization & OEM
Ready to take your indoor gardening to the next level? Our lighting controller is the secret weapon you need!
Experience the power of customization with the Auxgrow smart LED grow light controller.
Whether you're growing indoors or in a greenhouse, our product will help you achieve optimal growth and yield.
We provide a range of customizable options to meet your specific needs.
● Printing a logo on the black panel.
● Modifying the text on the panel.
● Feature addition or removal for function customization.
● Changing the outer shell of the product.
● Modifying the interface of the APP.
Rest assured, our team is equipped to handle any customization requests you may have.