About UFO LED Grow Light
Balanced Spectrum for Full-Cycle Growing
Vegetative Footprint: 3′ x 3′ – 4′ x 4′; Flower Footprint: 2′ x 2′ – 3′ x 3′
Low Energy Use & Virtually No Heat Output
Increased Yield & Crop Quality
Simple Plug-and-Play Set-Up & Use
Each Chip Has a Lens that Allows the Light to be Directed Farther and More Concentrated
Perfect for Keeping Your Favorite Mother Plants, Strains Available, Flowers, Vegetables and Fruits
Perfect for Covert 2′ x 2′, 2′ x 3′, 2′ x 4′, 3′ x 3′ & 3′ x 4′ Grow Tents
Auxgrow UFO LED grow light is an affordable plug-and-play LED designed for use in small grow tents or growing spaces. The full-spectrum small LED lights for plants only pull lower watts from the wall but manage to output a solid efficacy rating of 2.5μmol/s. This light is great for beginners, small grow tents or as a seedling or early veg light source.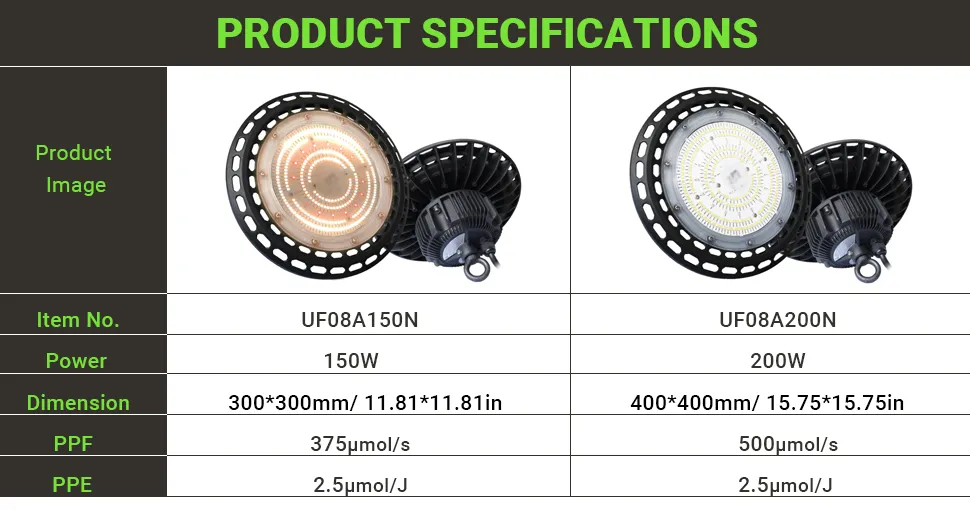 High-Efficiency Small LED Lights for Plants
This UFO LED grow light this LED achieves an efficiency of 2.5μmol/s. Using high-quality LED chips, famous branded LED provides a full spectrum, promotes plant photosynthesis and growth, increases yield, and provides the light and temperature required for plant growth.
Perfect for Indoor Plants at All Stages
The UFO LED grow light is best when used in smaller 2×2, 2×3, 2×4, or 3×3 grow tents and closets. They can be used for full-cycle growing from seed to harvest, but they also are great for lush vegetative growth as well. The UFO LED grow light is a great option for keeping your favorite mother plants available for cloning anytime you need them.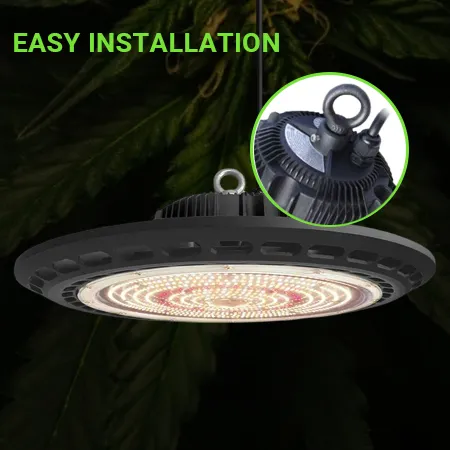 Simple Structure & Easy Installation
The unique plug-and-play convenience, low energy consumption, quiet operation and durability of the UFO LED grow light make it a great low-cost fixture for any grower! For the ideal coverage in the veg stage, hang the fixture 24″+ away from the top of your plant canopy. For flowering, lower the light to about 12″ over the canopy.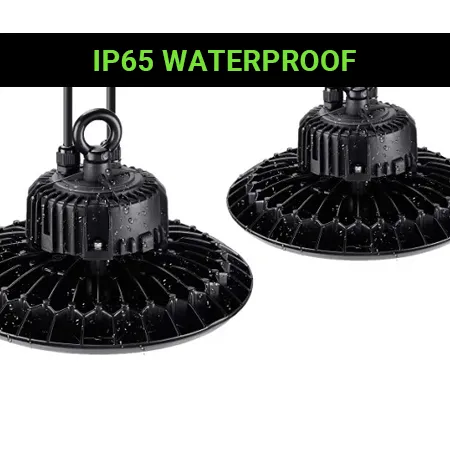 IP65 Waterproof
Our small LED lights for plants are coated evenly. The solid glue process on each chip can avoid moisture effectively and resist dust, preventing the diode from being oxidized by air. No need to worry about the humid planting environment damaging the LED plant grow light.