Our vertical hydroponic system SG43 is eco-friendly and safe, an autonomous eco-system that controls the water supply, temperature, photosynthesis, and light, helping you reduce water and energy consumption. The crops are 100% natural and safe, so you can enjoy them right out of your indoor garden.
Whether you are leaving in a house or apartment, this mini hydroponic system is the perfect solution to enjoy fresh crops all year round. Everything is automatic, so you won't get your hands dirty or carry pots around, as it can accommodate 72 planters occupying only 1sqm.
We are a wholesale hydroponic supplies who strive to provide wholesale hydroponic equipment that offers you the highest return on your investment.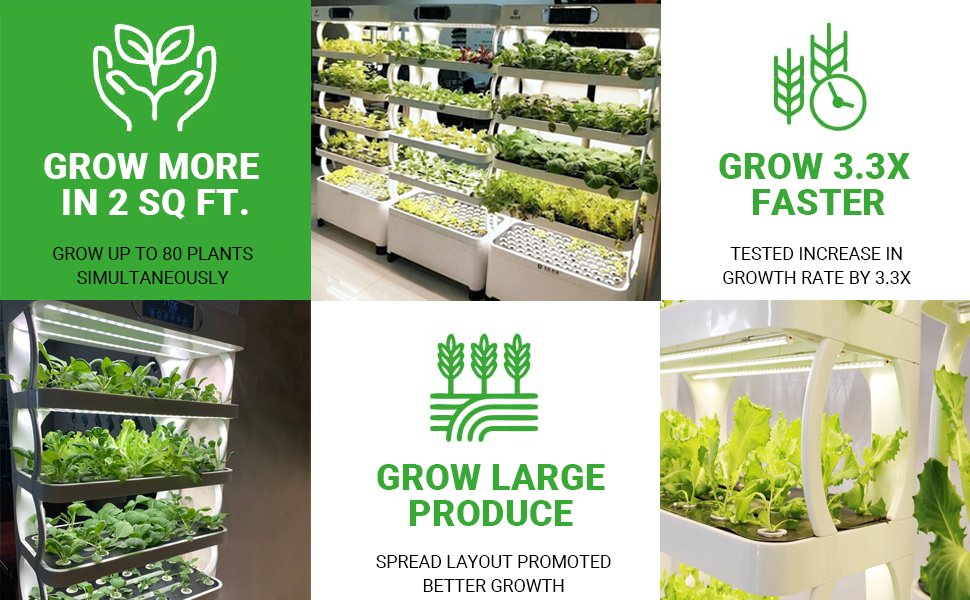 Item number: SG43
Weight: 30kg
Size: 770*400*1700mm
LED Power: 72W
Tank Capacity: 40L
Material: PP, PET, Environmentally Friendly
Rated Voltage: 220V
Machine Power: 220W
Covers Aare: 0.3 Square Meters
Scientifically Developed Nutrition
Top Four Layers for Planting, 72pcs plant pots
Bottom Layer for Seedling, 85pcs plant pots
Smart Control System
Our vertical hydroponic system uses a smart technology that allows you to adjust the lighting mode and water cycle interval depending on the environment. This mini hydroponic system can regulate the light, temperature, and water supply, creating the ideal environment for your plants to thrive.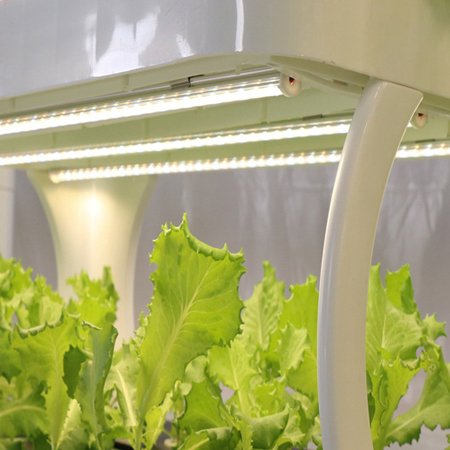 Full Spectrum LED Grow Light
The best thing about full-spectrum LED lights of vertical hydroponic system is that they give you a great harvest while reducing your electricity bill. LED full-spectrum plant grow lights mimic the wavelength distribution of real light, and they provide a broad spectrum for plant growth.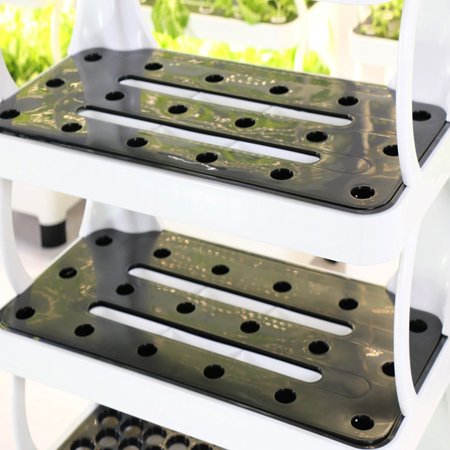 Environmentally Friendly Materials
PP has a smooth surface, is moisture resistant, and has a low water absorption rate; PET has good transparency and compressive strength. They providing the optimal conditions for your plants to thrive, without any chemicals or pollution residues.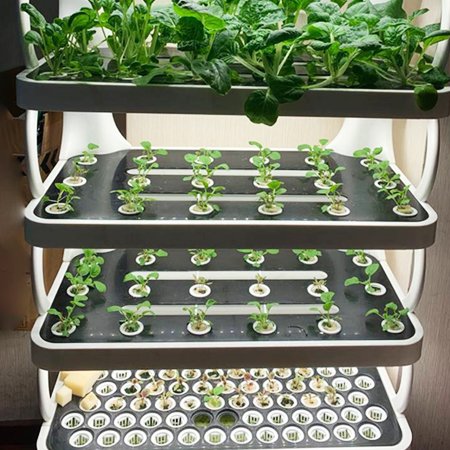 Grow A Variety of Plants
Top Four Layers for Planting, 72pcs plant pots; Bottom Layer for Seedling, 85pcs plant pots. This vertical hydroponic system is the ideal way to enjoy fresh fruits and vegetables right in the comfort of your own home!