On the days when the epidemic is raging, we cannot feel the fresh air or the breath of nature. Such a day-to-day life makes people yearn for the comfort of rural life. The biggest source of security is also having your own small world- hydroponic vegetable garden, where you can grow vegetables and flowers in your spare time.
If you have a Home Hydroponic Vegetable Garden, then you can stay at home and feel the sense of security brought by nature. It uses the green method of "freedom of fruits and vegetables" to not only achieve sufficient supplies but also enrich your spiritual life. Experiencing the field of life and the joy of planting and harvesting, and realizing the dream of home and garden!
I heard that you want to grow vegetables without dirt, soil and pests, and bacteria. Our Home Hydroponic Vegetable Garden will make your dream come true!
I heard that you are worried about the seasonal climate and cannot plant, our Home Hydroponic Vegetable Garden will also solve it for you!
I heard that you are concerned about the uneven growth of plants and their effect on their appearance, our Home Hydroponic Vegetable Garden will give you peace of mind!
Since there is no arable soil in the city, we use soilless cultivation; since chemical fertilizers and pesticides affect food safety, we use nutrient solutions; if you want to grow vegetables and flowers with confidence, you can plant them by yourself. As long as you have a pastoral dream in your heart, we can realize it for you!
Quickly colonize plants with high-quality planting, cultivate them with nutrient solution, and artificially create a good root environment to replace the soil environment, save water, fertilizer, high yield, clean, sanitation, pollution-free, labor-saving, easy to manage, and avoid Consecutive obstacles.
LED power 24W, Capacity 3.5L, with 7 plant pods, size 38*17*20cm to 46.5cm, box size 41.5*18*21cm, with 1.22kg weight, ABS material
The color has two choices of white or black, belongs to the full-spectrum LED grow light, has a timed circulation pump and visual water level meter
Input: AC 100V-240V / 50-60Hz
Output: 24V DC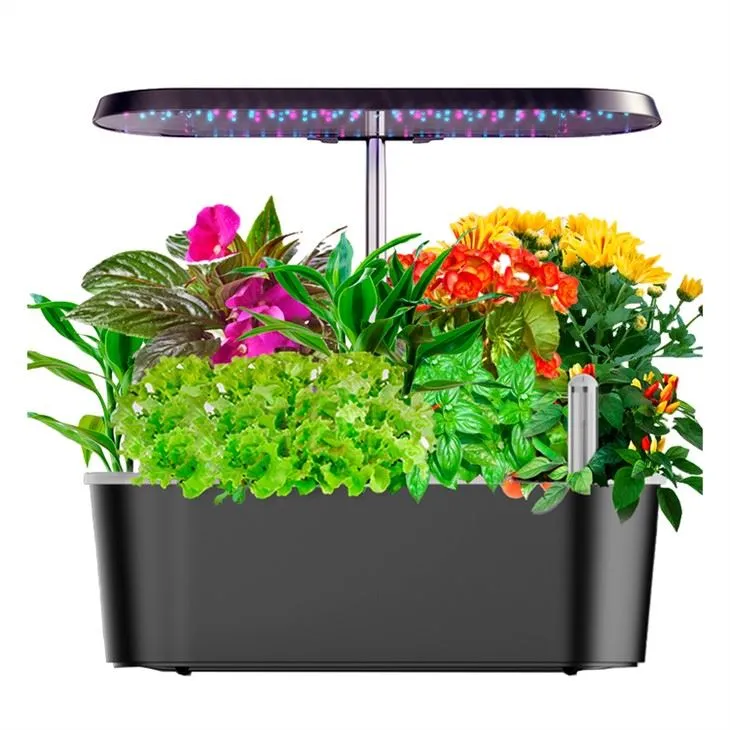 We are a hydroponics equipment supplier, we can provide you with the best service and the best hydroponics system, let you can easily realize your dream, so don't you still feel excited?
If you want to know more, you can click the website below, there is more hydroponic equipment waiting for you to choose from.
https://auxgrow.com/product-category/indoor-smart-garden-suppliers/