Research on the principle, and characteristics:
Light surroundings are one of the vital physical environmental factors that area unit indispensable for plant growth and development. dominant plant morphology through lightweight quality regulation is a crucial technology within the field of facility cultivation;  grow lights area unit a lot environmentally friendly and energy-saving. crystal rectifier grows lights offer plants give chemical action, promote plant growth, shorten the time for plants to bloom and fruit, and increase production!
Lighting time of plant lamps:
According to the various responses of plants to photoperiod, plants may be divided into 3 types: long-day plants, short-day plants, and intermediate-day plants;
①Long-day plants: within the method of plant growth and development, flower buds will solely be fashioned once the number of sunshine hours per day exceeds an exact limit (14-17 hours).
The longer the sunshine amount, the sooner the flowering. like oilseed, spinach, radish, cabbage, etc.;
②Intermediate sunshine plants: throughout the method of plant growth and development, there aren't any strict needs for the length of sunshine. like rose, cucumber, tomato, pepper, etc.;
③ Short-day plants: throughout the expansion and development of plants, 8-12 hours of sunshine is needed. like strawberry, chrysanthemum, etc.
About crystal rectifier Full-spectrum quantum board LED grow light FB01A04D: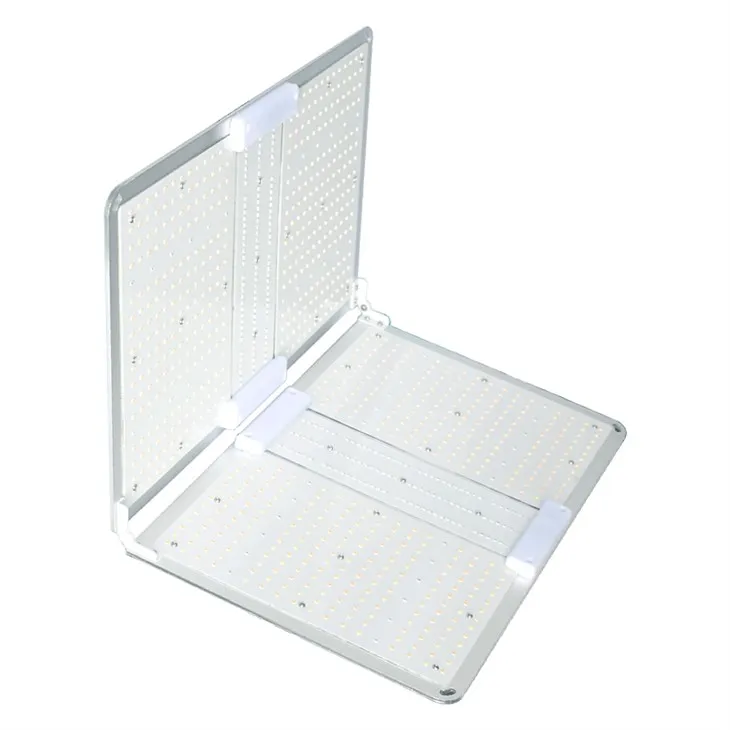 400W power, Samsung and Osram crystal rectifier, UL listed Sosen crystal rectifier driver
Full Spectrum 3000K, 5000K, 660nm, and IR 760nm + UV-A
Quantum board style, silver shell, size 600*480*74mm
Input voltage: 100V~277V AC, PF>0.95
PPF: 1350μmol/s
PPE: 2.9μmol/J
Service life: fifty-four,000 hours
Knob variable resistor includes hook kit, foldable
3 teams of freelance switches:
The first switch at 3000K + 660nm
Second switch for 5000K
3rd switch for IR + UV-A
The crystal rectifier Full-spectrum quantum board LED grow light FB01A04D could be a series of full-spectrum, light-weight, and silent running plant lamps. they're ideal to be used as a standalone light or as a supplemental light. This clamp is intended for harsh environments and can provide you with years of maintenance-free performance. This high-efficiency full-spectrum crystal rectifier luminaire is right for applications requiring precise, uniform PPFD.
We are a grow lights manufacturer, and we sincerely hope that we can help you grow better.